We all know how the British ended up adopting American nicknames for their aircraft, but I only recently realized how extensive the problem of linguistic intermixing was and how it apparently rubbbed a number of people the wrong way.
First, I will note that a number of American wartime aircraft manuals actually have an "American to British glossary":
Attachment:
File comment: Structural Repair Instructions for A-36, P-51, F-6, and TF-51; T.O. No. 01-60-3, Page 506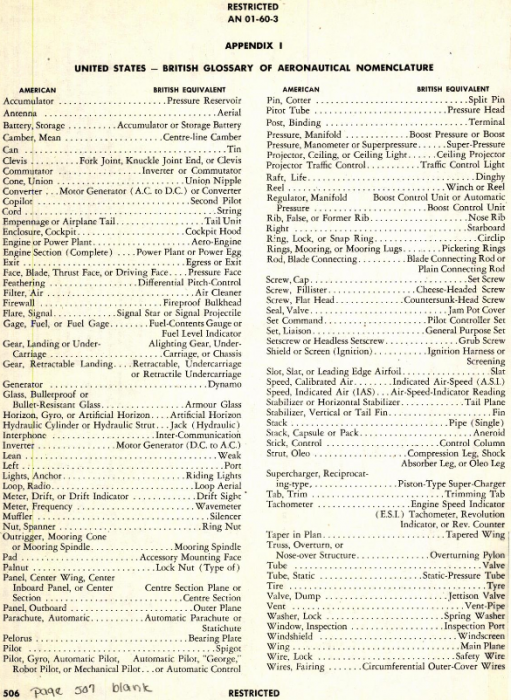 01-60-3.png [ 932.79 KiB | Viewed 823 times ]
(Source:
AirCorps Library
)
Attachment:
File comment: Pilot's Flight Operating Instructions P-51B-1 Airplane, AN 01-60JD-1, Page 58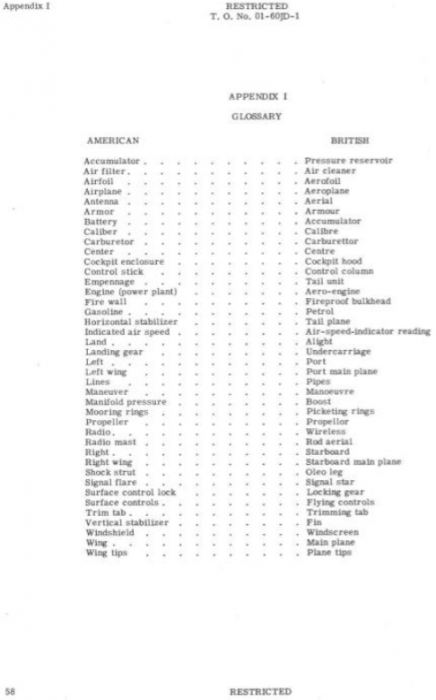 01-60JD-1.png [ 148.19 KiB | Viewed 823 times ]
(Source:
AirCorps Library
)
Furthermore, I recently came across this interesting opinion piece in the back of a wartime book:
R. A. Saville Sneath wrote:
The officially recommended term 'propeller' has been used in the present book. "Propeller," generally used in the early days of aviation, has for some years been replaced in Great Britain by "airscrew," which has the advantage of indicating the medium in which the screw operates. Further, the distinction between pusher and tractor airscrew is easily made, but to speak of a pusher propeller or a tractor propeller involves use of redundant or of mutually contradictory terms.

The recent adoption of the less precise term "propeller" by the Ministry of Aircraft Production and other official bodies is stated to be due to confusion arising between "aircrew" and "airscrew." Possibly a more cogent reason is the fact that "propeller" is generally used in the United States. In adopting common standard terms which would prevent confusion and avoid delay in the shipping of essential parts to battle zones, concessions have been made from time to time by both nations. These minor changes may be accepted with goodwill in the interests of Allied solidarity, but let them not ask us to exchange our indispensable British braces for transatlantic suspenders!

The official recommendation is not uniformly adopted, nor has it been recognized by any revision of the standard nomenclature of the British Standards Institution. An authoritative ruling appears to be desirable.
Source: R. A. Saville-Sneath,
British Aircraft
, First Annual, vol. One (Harmondsworth, Middlesex: Penguin Books, 1944), 224.
This resentment may have been the result of the British having to adopt so many American aircraft since, as has been noted elsewhere, so many of the British naval aircraft were obsolete. It is also worth noting that we Americans
commandeered their Chad as our Kilroy
.
As George Bernard Shaw said, not coincidentally, in September 1942:
George Bernard Shaw wrote:
England and America are two countries separated by the same language!
(Source:
Quote Investigator
)