There's one guy who hates airplane noise that lives about 1/2 mile north of the approach end of Runway 16 at Madras.Fortunately,he has a distinctive house that we try to avoid when we fly the DC-7s from Madras.There are also several homes about the same distance from the approach end of Runway 34,but they haven't complained,so far.The runway at Madras is about 5100 feet long,but only 75 feet wide with soft earth on the end of rwy 34,so touching down short isn't an option,but we can't afford to leave too much unused runway behind us while landing.The museum airplanes shouldn't have any problems and Erickson Aero Tanker has landed an MD-87 in Madras with no problem.All of that said,Madras Airport is a very pleasant and quiet rural location with mostly friendly and helpful people.It's much more relaxed experience operating from Madras than doing so from Redmond.The only real complaint being the relatively short and narrow runway for DC-7 operations.
Butler Aircraft sold their air tanker division to Erickson Aero Tanker last year.The changeover took place in November.I'm expected by Aero Tanker to continue flying T62 on the State of Oregon contract in Medford,but I'm not entirely sure that I want to do so.The changeover has been nothing but trouble for me and for the other ex-Butler employees,so far.As a part time employee,I lost my health care coverage as of November 1st and I'm none too enthusiastic about starting over with a new company after working for TBM Inc./Butler Aircraft for my entire 37 years flying tankers.As I turn 65 in a couple of weeks,I was only planning to fly one more year anyway.I still have to get through my flight physical next week before I talk to the Aero Air guys.I understand that construction has started on a huge new hangar for Erickson's museum that's supposed to be north of the ex-Butler hangar which is toward the north end of the ramp area and just south of 5 square concrete pads.I haven't been to Madras since last October,but I'll head that way soon.I'll report anything of interest if I hear or see it.
Here's a google earth picture of Madras Airport.The anti-big airplane guy lives in the blue and white house just above the twin circular fields at the top of the picture.
Here's a shot from one of the concrete pads looking west past the parallel taxiway.The runway is hidden past the grass and tumbleweeds.It is peaceful.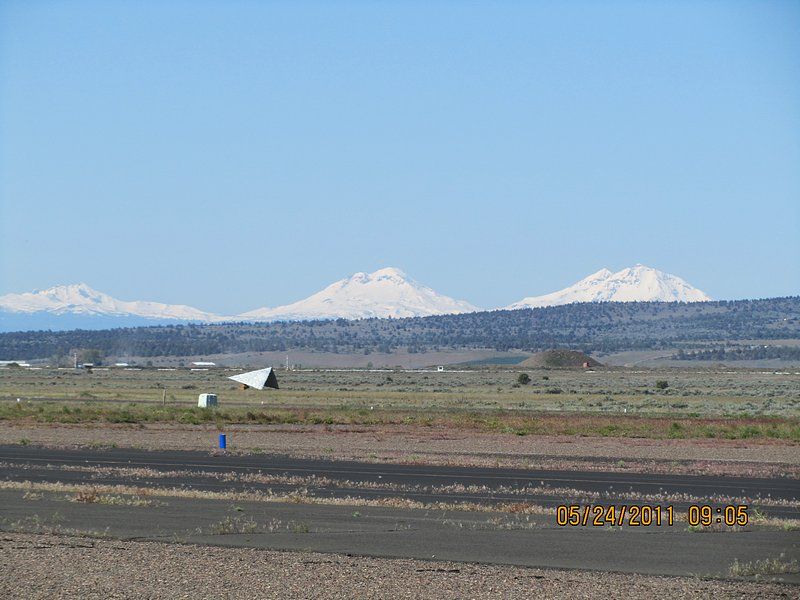 Here's T62 on a concrete pad.The gravel is solid enough to taxi across (fortunately).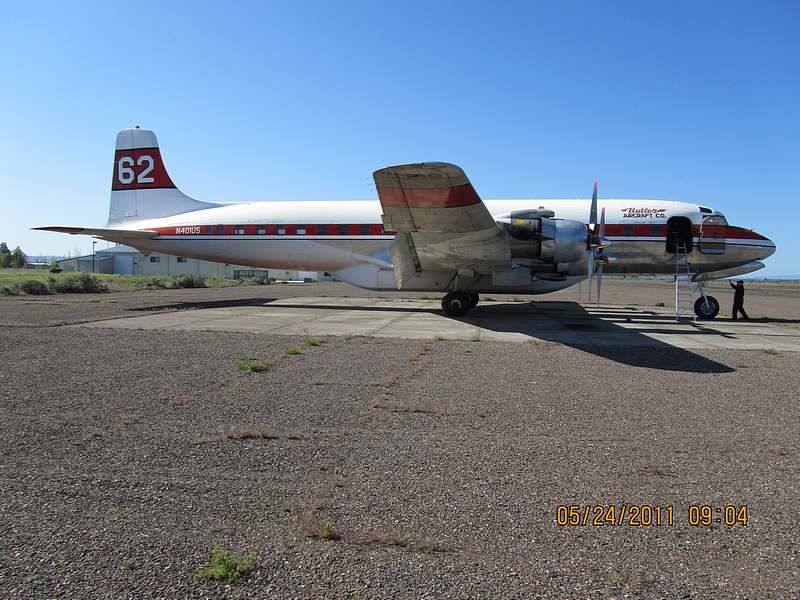 Here's T60 in front of the Butler maintenance hangar.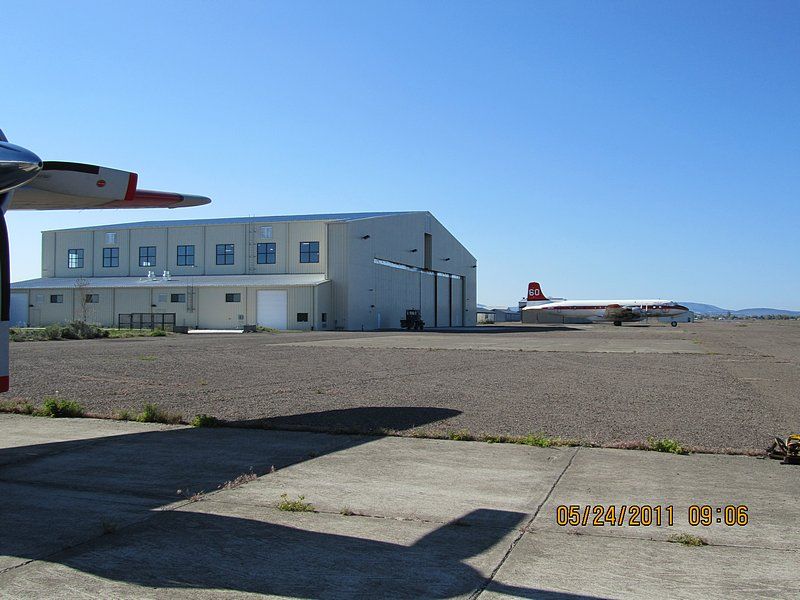 This shot shows T66 inside the hangar.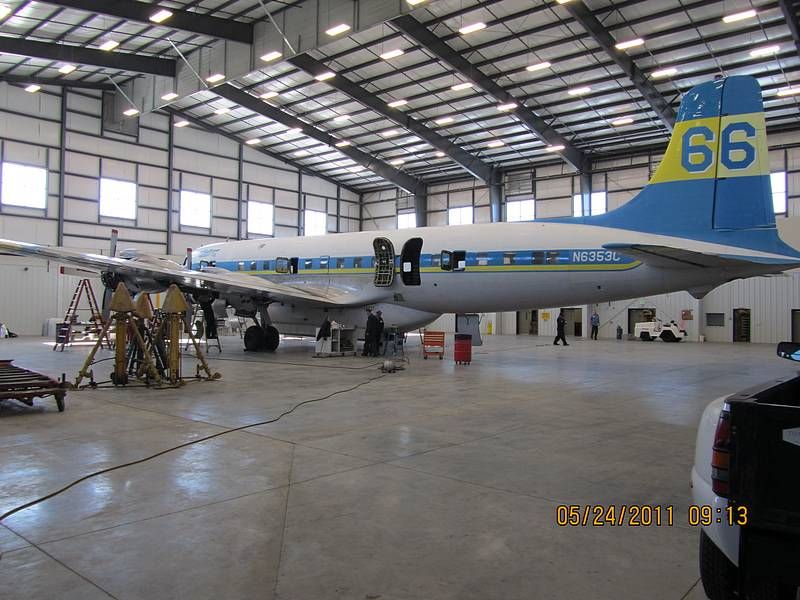 Another shot of T66 inside the hangar.
Another shot of T62 on a concrete pad.
A shot from the cockpit of T62 at Madras.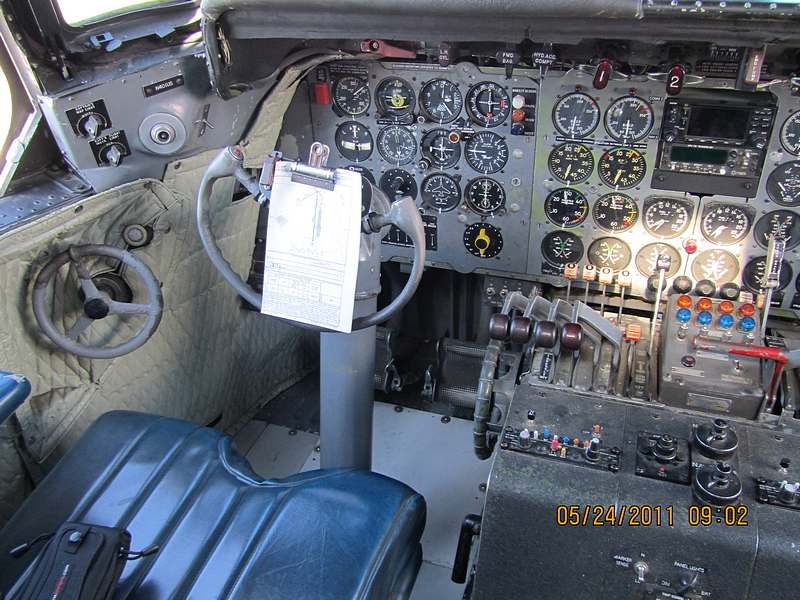 My co-pilot Ron Carpinella inside T62.