Some things in life you can't just do once....
Soon after my first trip to Space Camp, I decided I had to go back. In the months leading up to attending Space Academy in 2013, I was accepted into the Space Camp Ambassador Program, and Steve from the forum here decided to come back at the same time.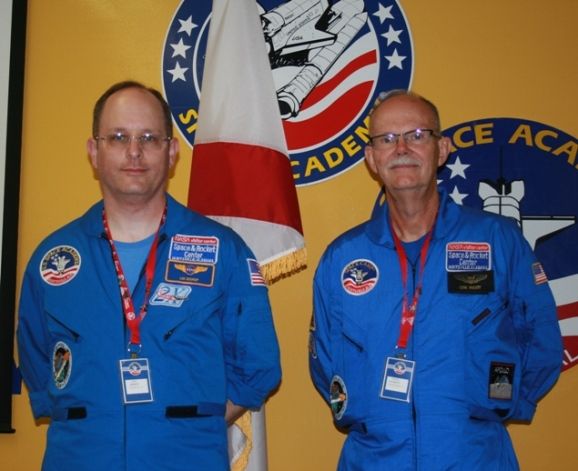 Myself and Steve, two old red-lanyard Space Cowboys ready to go at a moment's notice!
My very understanding wife relented and combined a return to Space Camp with a trip she'd dreamed of for years, to visit the 'other' end of Tennessee and to hit places like Memphis and Nashville. Plans made, I started plotting with Steve for the best return to Camp we could muster. The sight of the Saturn V mockup coming over the hill on the highway through Huntsville was just as impressive the second time.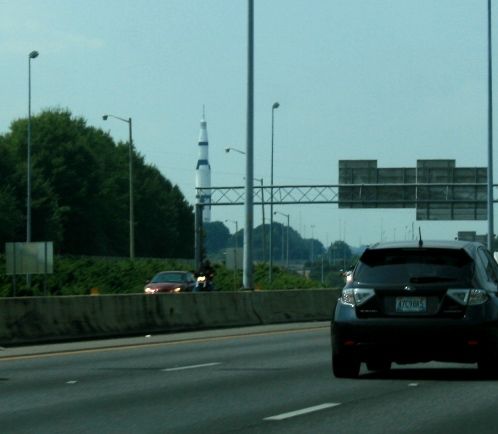 This sight never grows old as you first crest the hill!
We each showed up the day before and I got my Space Center ID card (so people back home would realize I really was 'bonafide'). The staff seemed interested in our input, and I shared some of my ideas for how best to get the name of the Center out there better for the public, especially the adult programs, which aren't very well known at all. Immediately afterward, I got some good detailed shots of Felix Baumgartner's pressure suit and capsule used in his 2012 world record parachute jump (127,852 feet). It was on a tour before heading to the Smithsonian for good. We were very lucky to get to see these historical pieces.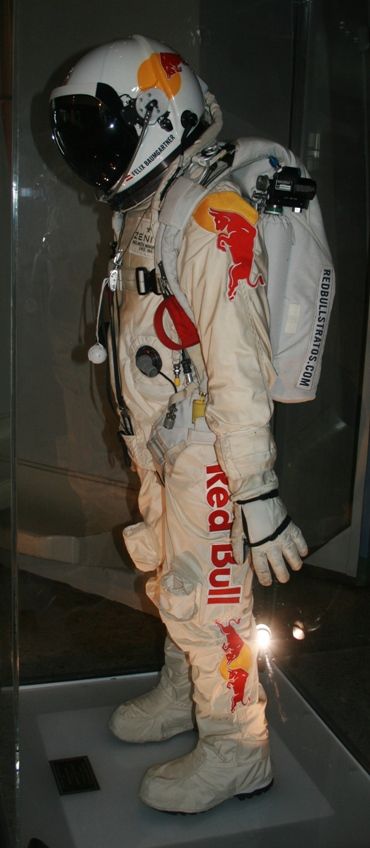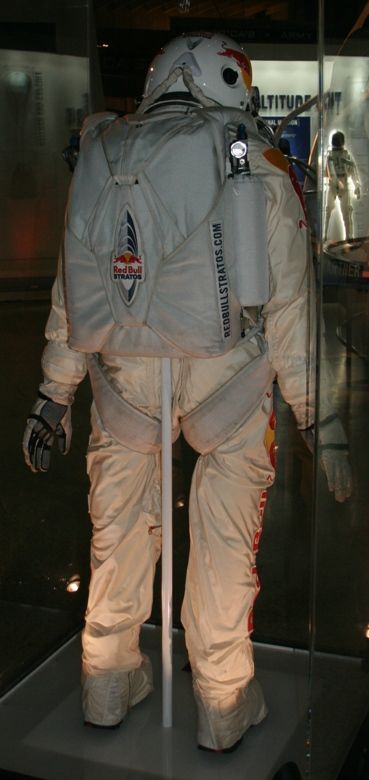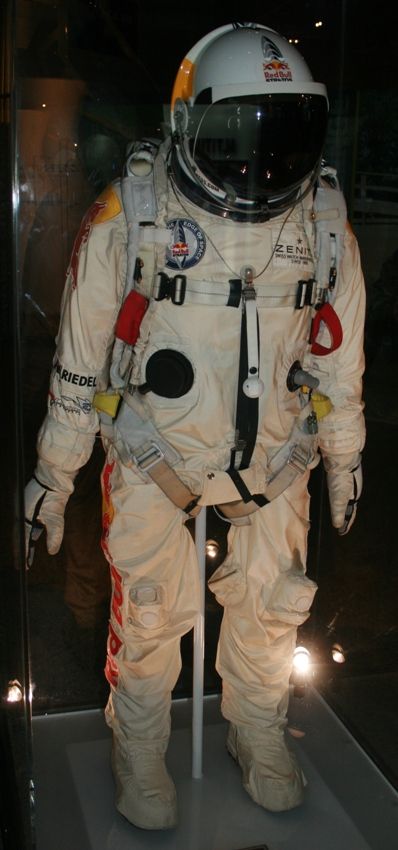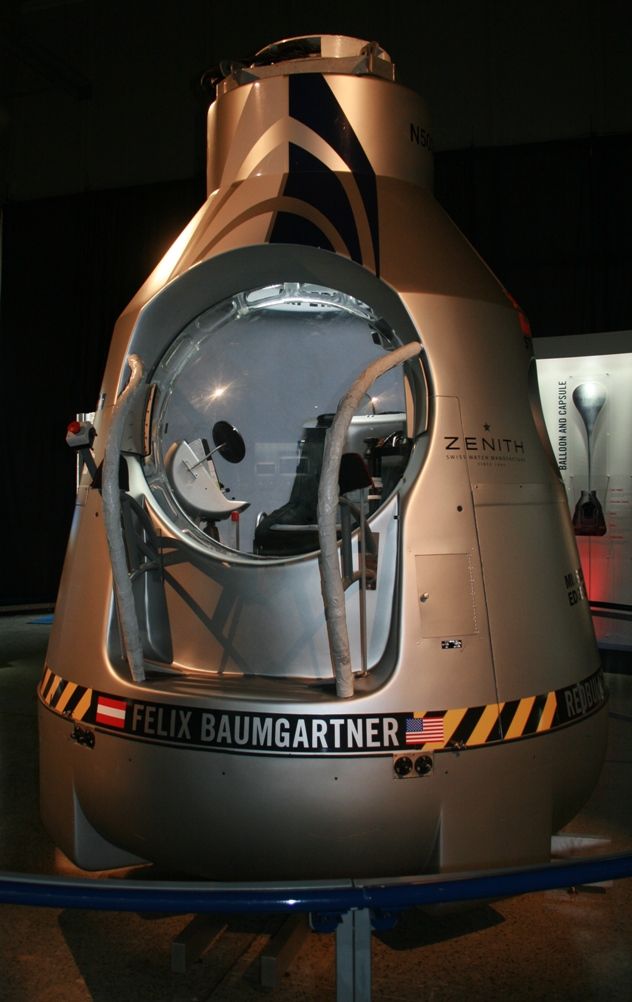 Felix Baumgartner's toys on display...
We then did the Redstone Tour. That went very well, being in the off season and hardly anyone was on the bus with us. We went to several places the public rarely ever sees. I think Steve was surprised when the tour guide said she was sure she recognized me from somewhere, as she was into living history stuff as I am...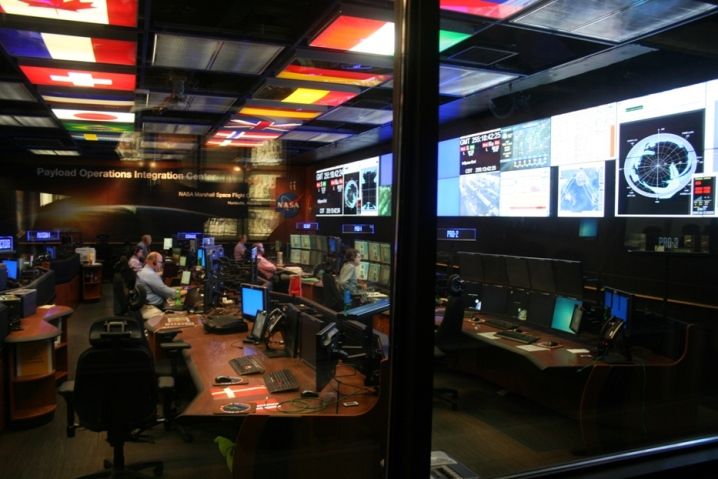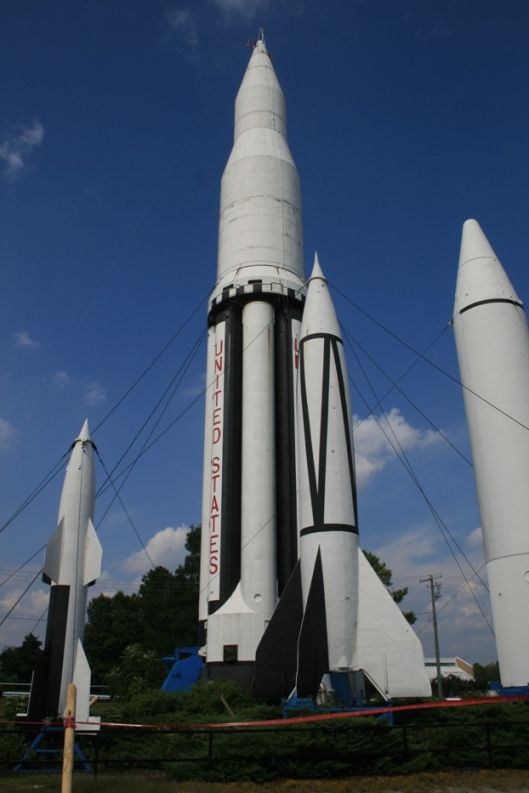 ISS mission control and the Army's 'rocket garden' at Redstone.
DAY ONE: RETURN TO SPACE CAMP
The following morning, we hit the Space Center early, got plenty of photos and I tried the Lunar Lander simulator. It said I had the best score of the day, putting it down right on the money, but there might have been next to no other people that day trying it. Like last year, we had the entire building for the Saturn V all to ourselves.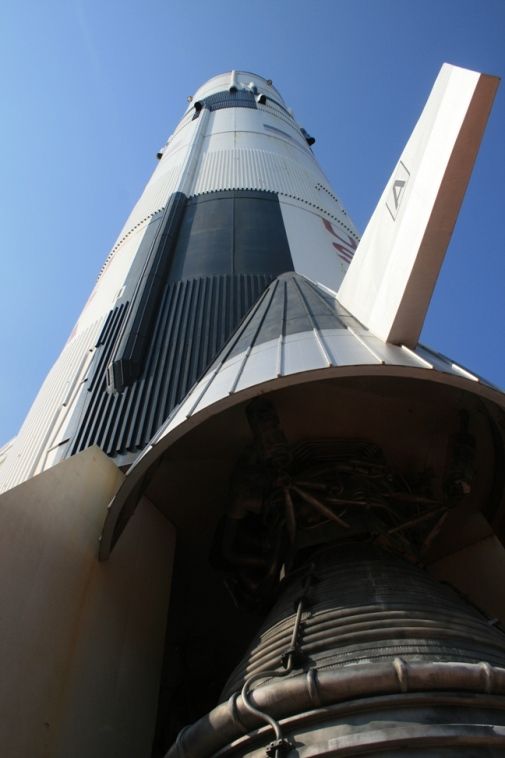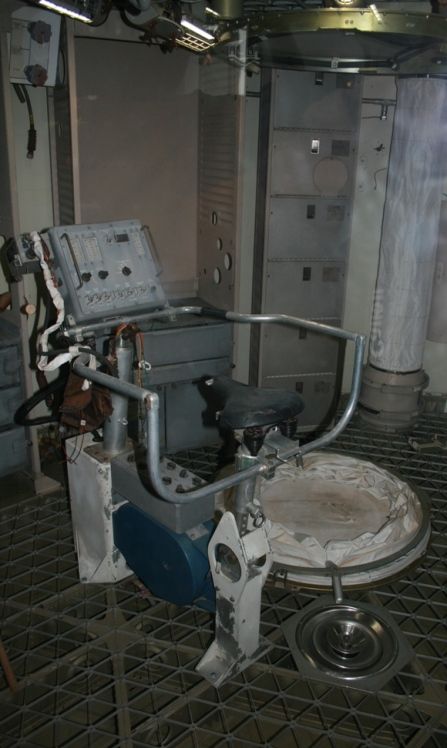 Saturn V mockup and the Skylab trainer.
Soon it was time to check in for Camp. Steve and I had several surprises this year:
-We knew the logo had changed, but very little stuff for the program had the new logo. The few shirts with the new logo were for the smaller sizes.
-There were 60 adults for the Academy program this year; we had 24 last year. Also, there were several foreign youth groups at the same time. The Habitat 1 ('The HAB' as it is called) was quite filled that weekend.
-We roomed together again, and got the very same room as got last year! The HAB is a big place and I can't imagine the odds of that. But they still hadn't fixed the door that stuck when closed.
-Many changes had taken place since last year.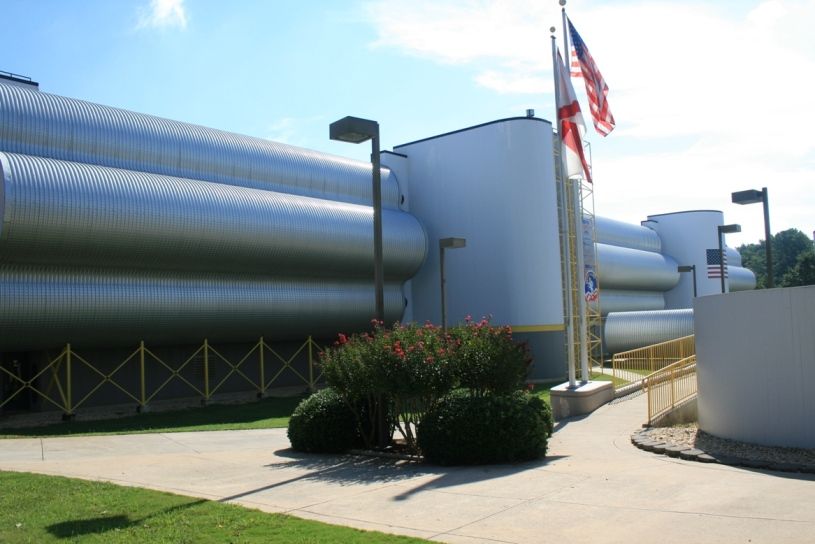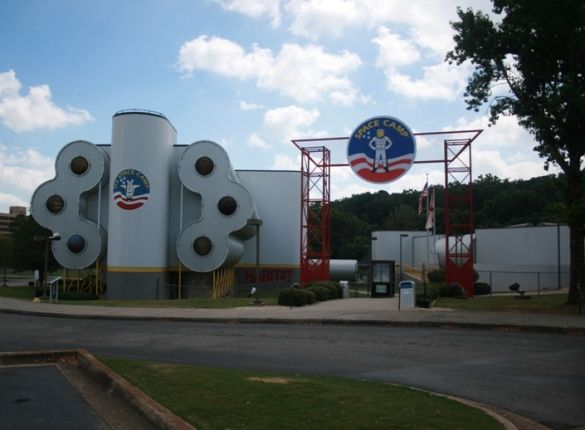 The HAB. Note to the new logo on the gate but the 1990s logo on the building...
Steve and I decided to keep the red lanyards from last year, and it apparently obvious to many that we'd been there before, as total strangers were asking each of us what to expect for the weekend (I told most of them that it's okay you don't have a clue about anything at first, my strongest advice, I hope it helped). The biggest shock came when we'd checked in early, went off to lunch and came back to find two more people in our room. A set of twins had been assigned to our room, which was fine with us as they seemed pretty good guys (an opinion we kept of them through the weekend). Odd coincidences kept coming when we all surprised to find that that'd used my website as a guide for what to expect. I'm not sure who was most surprised at that. The following day I had three other people from various other teams approach me saying they had recognized me from this website. I had no idea so many people apparently had seen it.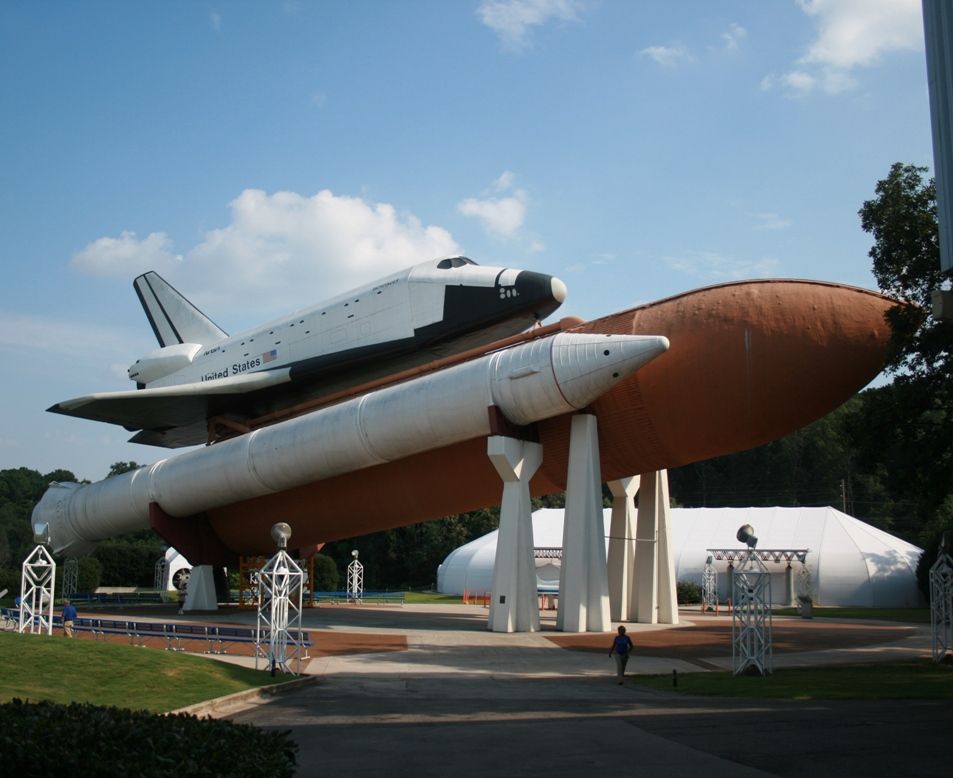 Pathfinder, another sight that never gets old.
We were in Team Discovery this year. I was fine with that, as it's the orbiter I've seen in person more than any of the others. Soon I realized with four teams running around (and 15 people each), we weren't going to get to use the Enterprise Orbiter this year, instead using the Atlantis orbiter. It has only the nose and crew compartments, but two trainers told me it was the mockup used as the Atlantis in the 1986 'Spacecamp' movie. Early on, we were asked to request what positions we wanted. Having missed landing the orbiter last year, I practically begged on the form to be the Commander one of the shuttle missions, and also put in to be CAPCOM for another.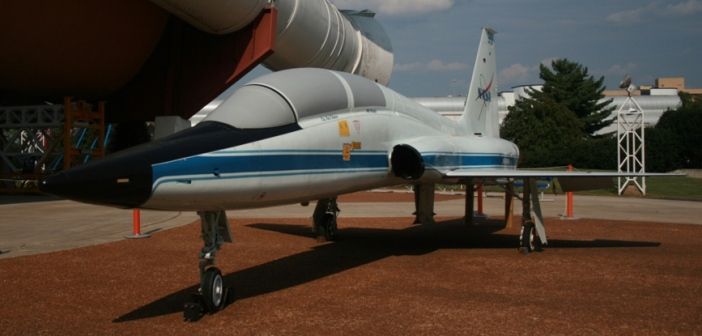 T-38, but not a NASA one...
Our trainer was Andrea, one of the 20-somethings who pretty much run the 'space' operations. I could tell right away she had a real interest in the subject, so there would be no need to worry that any of them would be 'phoning it in' when working with us.
We never got around to a "getting to know you" session at all and went straight into it. Like last year, there were a few members of the team I never got to talk with much. There were two sets of siblings, several who had been given the experience as a present from someone else, and varying ages from the the 20s to, well, way beyond that. We started with the IMAX movie, "Magnificent Desolation" which was a great way to start the weekend. The red lanyards Steve and I were wearing certainly drew some looks from several people (we decided to not wear the white ones they handed out but did break out with the issued blue Camp shirts, the same type we had from last year). Our team photo was after the sun was behind us, but it turned out just fine. Rocket building was better this time, we didn't have the paint the things this year. We then plunged into the Alpha mission, where I got my choice of CAPCOM and talked two sisters through their mission. I felt for them, the first crew out of the slot rarely had any idea what's going on at first.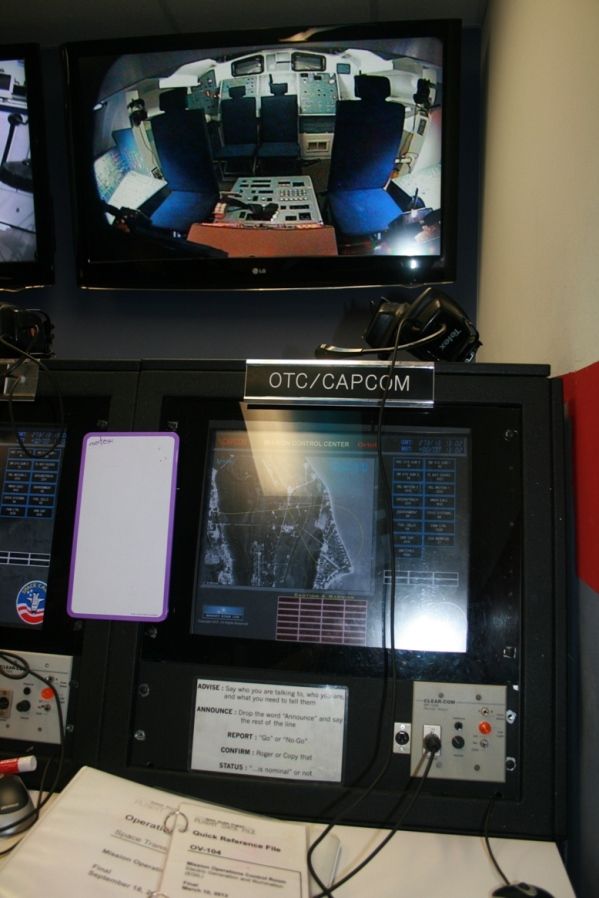 CAPCOM position, Alpha mission
We then sat down as a group and talked about the mission patch. This was, I think, not my best moment. I had told several people I created the winning patch past year, had experience with military insignia design and would was willing to take on the project this year. Several of the team seemed just fine with that, but after Andrea went over a basic explanation of mission patches, it devolved quickly. Design my committee never works well, and I spoke up, saying that all mission patches have one of two themes at the most, using my well-worn comparison to putting 'Ten pounds of idea into a two punch bucket.' While that bulb seemed to be lit, moments later people were coming up with their own ideas, some of which had many different (and unrelated) elements. At this point I tried to reign in some sanity to this, as we hadn't been together as a group very long at all (frankly, I thought it was way too early to even discuss it). I think I really forced myself on the group, as when I explained that a patch design with as much as a dozen unrelated elements would have zero chance of winning against the other teams' designs, one responded with, "Well, maybe we're not wanting it to win anything, but instead for what we want." I replied that they felt that way now, but come Sunday when the awards were being read out, they'd certainly care by then. I decided to just ratchet it back a bit. Nobody was sold on anyone's ideas by that point (including mine, which I had to admit wasn't my favorite). Someone my 'bucket' comment became a solid element that most could agree they wanted. To this day I'm not sure how that happened. We left it up in the air and realized that it wasn't likely anyone else would step up when it came time to render the patch. So I decided I'd sketch up something once a good idea hit me and that probably everyone else would be okay with it because I was willing to do the grunt work on it. So, we left it there. One person on the team demanded that a peace symbol be included in any final design. Being former military and a military historian, I can't say I was sold on that concept in the slightest. I'm still not.
We ran the Alpha mission and called it a night. Thankfully, nobody landed an orbiter without the landing gear, which was a common problem last year. Steve was smart enough to bring a floor fan into the room, which provided some 'white' noise. But I usually never slept well the first night of any deployment, and Space Camp was never an exception.
DAY TWO: "CAPCOM, ATLANTIS. WHEELS STOP."
We started the day at Breakfast, which always goes over well. By now, we were all getting up to speed on what was going on. We jumped into training for the 'Bravo' mission, which put Steve and me (and our roommates, the twins) in the International Space Station. I've never been a big fan of the ISS, as you just throw some switches, run some junior-high-level science experiments and that's pretty much it. Train up for that is the only time you don't feel overwhelmed. I heard later that the orbiter crew almost didn't get the Atlantis onto the runway at Edwards but being in the ISS, I never got to see what it looked like.
But what made my day (heck, it made my year) was to hear the rest of our assignments, and I not only got a orbiter Commander position, but got it for the 2-hour 'Charlie' mission as well! I'd been wanting to land the orbiter since the previous year, so this is really all I was focused on for the rest of the day. We took our rockets down to the pad and launched them, where most people recovered theirs as it wasn't windy at all that day.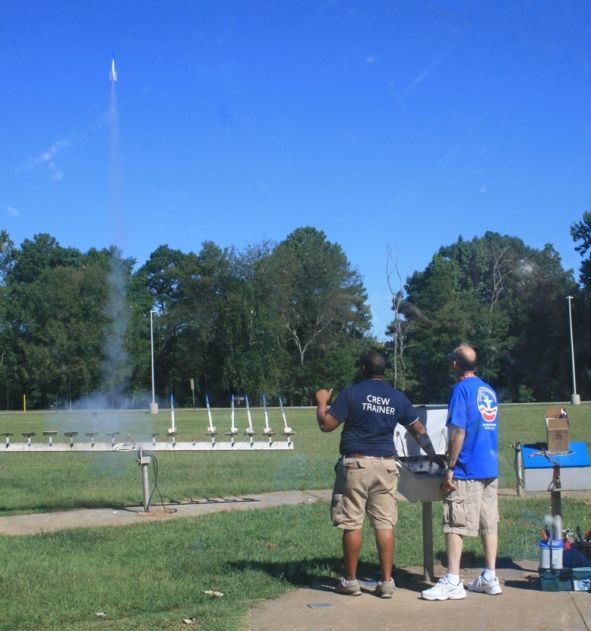 Steve make rocket go zoom!
The space history session in the Davidson Center went as normal, I just hung back as I've read a lot of space history in the past few years.
We went to the sims and went through training for the Charlie mission. Steve was on the deck with me, pulling a mission specialist slot to do an EVA. It took a minute to get the feel for the orbiter controls, but once I got the feel for them, I took the Atlantis through three initial approaches and to relatively smooth landings at Kennedy. Wendy, an attorney by trade, was the pilot and I was very impressed how fast she got through those checklists. I knew this would be a great mission with us in the cockpit.
Next, we went to the Astrotech building and used the 1/6 gravity Moon simulator chairs and the MAT. I didn't do it last year from a bad headache. I hopped into it right away, as I've never been one to back from a challenge. Really, it's not as bad as it looks. I couldn't resist a mantra some of us used in my unit in the Army while spinning around in the thing, yelling, "I like, it, I love it, I can't get enough of it!" The 1/6 gravity chair is always fun.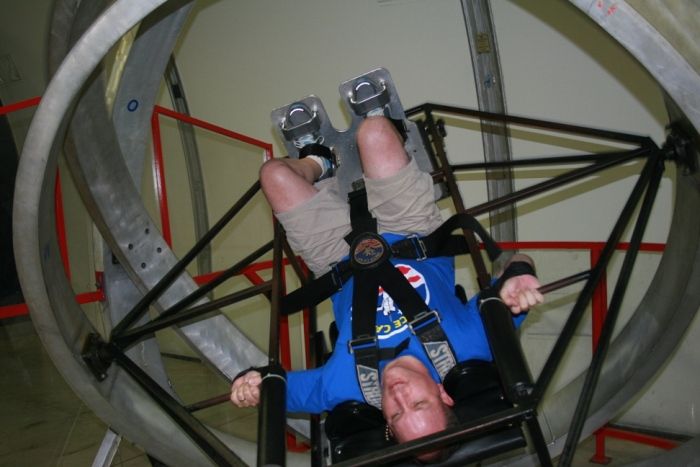 It's not as bad as it looks. Really.
Now, it was time for the main event. They pushed for people to be in flight suits in the orbiter, so I broke out my Camp flight suit (nobody noticed I was wearing a Space
Academy
patch on the suit, unlike everyone else). I'd regretted not wearing it on my misison last year and wasn't going to miss the chance this time.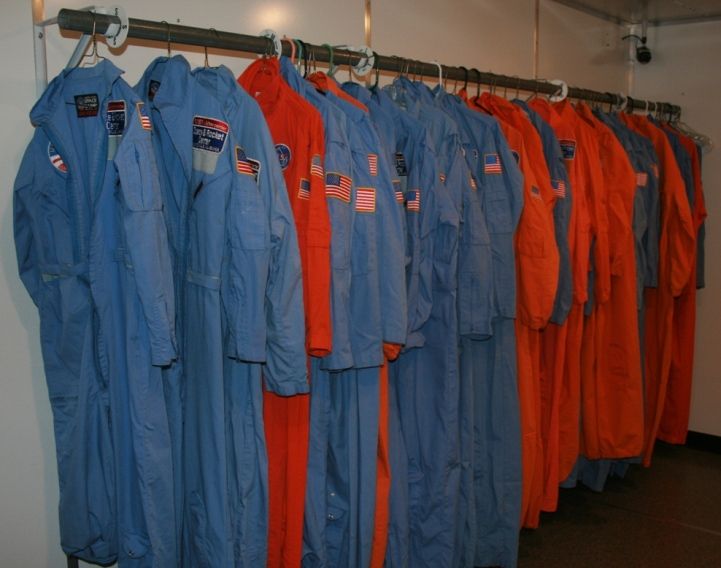 You can imagine how bonkers I was to see this...
Two hours goes by really fast in the cockpit. We got in, buttoned up and Wendy brezzed through all the prepatory switches and procedures (she breezed through all the APU stuff). We were ahead of the clock and enjoyed the liftoff, keeping at the timeline or just ahead of it the entire time. I couldn't have hoped for a better person for that right hand seat! Most of the mission was spent going through all the checklists and inputting a lot of data. Wendy completely left me in the dust in that department. Meanwhile, Steve and our other spacewalker handled building a structure in a space suit, 'floating' from a harness suspended from the roof. About the time we needed to get the orbiter configured to land, we still had the payload bays open. Not good. I'm sure down at Mission Control, the Flight Director was screaming at CAPCOM to get us to get the darned doors closed, but we a had a problem there. The MS's had opened the doors and it look like their checklist was with them. Thankfully Wendy saw their checklist for that under their seat, in an angle I never could have seen it. She hopped out, grabbed it, and we got the door closed pretty quickly once we knew we had the right info. Soon our spacewalkers were back in (good thing, too, as I didn't want to say, "Sorry we smoked you out there and left you to die" to Steve at dinner afterward) and it was all on me. Having seen people belly-land orbiters at Space Camp before, I wasn't worried at all as I trusted Wendy to be on top of that. So I focused on keeping the Atlantis on the track and into the glide slope to set her up for the landing. Steve said something about wanting a smooth landing. I think he did, anyway, as I was pretty focused on the stick. I think I said something like, "So help me, I'm gonna get this bird on the ground nice and smooth."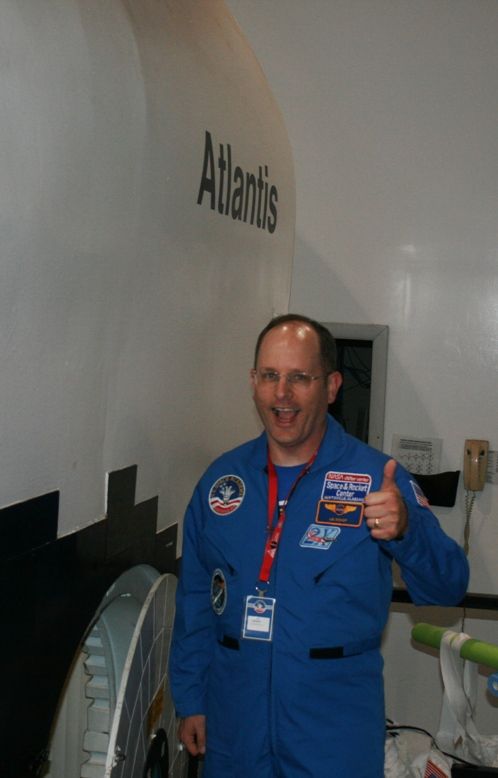 "Who's the best pilot you ever saw?"
(special thanks to Stephan Saint for taking this photo)
Landing that sucker is like driving a car with one eye open. But I'm manhandled my fair share of control sticks before and I set her down to what the old timers used to call, 'greasing that landing.' Not to brag, but I heard from more than a few people (both campers and staff) who wantched the landing who all had favorable things to say. I felt like I was still up there as I was so high on the experience. I just wish I could have seen the video that the mission control saw of that landing. I just waited for the pavement to quit moving so I could sound off with the words used at the end of each shuttle mission:
"CAPCOM, Atlantis. Wheels Stop."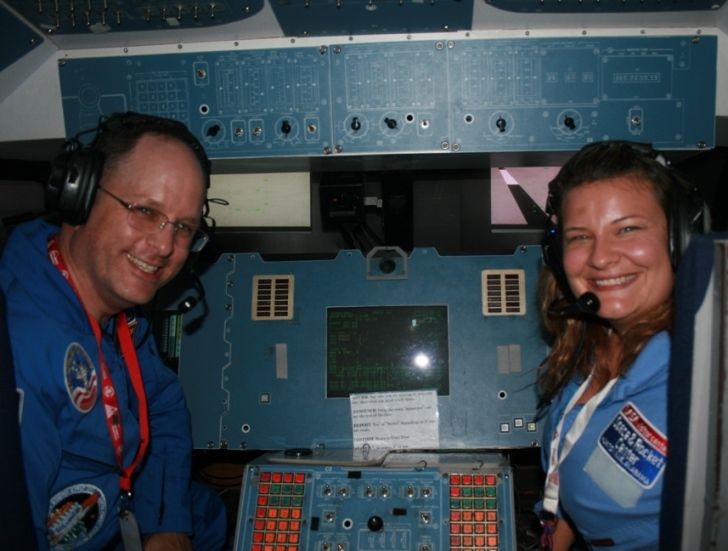 Charlie mission cockpit crew. Thanks again, Wendy!
A very enthusiastic group met for dinner. Trurned out, I'd flown the orbiter right through the space station! You don't have the orbiter on a control stick when it's in orbit, and I know we input all the info correctly, so I have no idea why the track of the Atlantis had us pass through the same space as the ISS. The sims aren't configured to react to that, so was passed through one another and hummed along as if nothing happened. Nobody every explained what the heck happened there, though.
Boarding the bus to Aviation Challenge, we all went to the F-18 sims, shot one another down, then got spun around the centrifuge. I asked them to crank it up to see how much I could take before passing out (I've pulled 7 that I know for certain, in the past) but I don't think that they would do that. So Niel and I couldn't recreate the scene from "Space Cownboys" where Tommy Lee Jones says, 'First one to pass out buys the beer,' darn it. I think Niel was probably very happy that they wouldn't crank it up as hard as I wanted them to.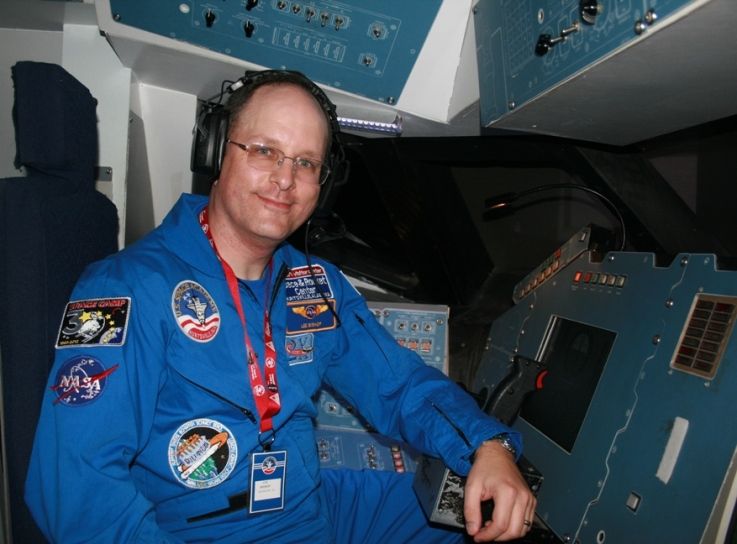 Yeah, I landed the orbiter nice and smooth, so what?
The mission patch had yet to be done and nobody had mentioned it much since the first night. So before we were done for the night, I showed a quick sketch I'd done at lunch which used a few of the elements that others had thought of (yes, including that peace symbol) and offered to render it right then. At that point, I think the realization kicked in that it would simply be easier and everyone agreed. While all but a couple of people went to Otter's (I was surprised to see it hadn't changed at all), I bounded up to the room in the HAB to get the patch done. I used a book I bought with photos of the orbiters just for this very reason and hammered out a design. I then went to Otter's with a cell photo of the drawing to show everyone. It was well recieved.
The group was really getting into the groove as a team, just as we were getting close to being done.
DAY THREE: "I GUESS IT'S EASY WHEN YOU HAVE A PROFESSIONAL ARTIST WITH YOU..."
The day started way too early for some. I hadn't had any alcohol as I'd taken some sinus pills before going to Otter's, so I felt fine. Some of the team were a bit sluggish getting to breakfast. I noticed two of the other teams starting to draw their patches as I turned ours in.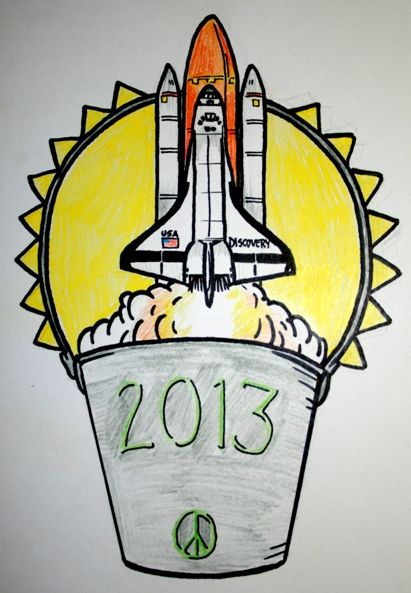 The winning mission patch
I doubt I was alone in being shocked to see only two of the four teams showed up. While I answered every question correctly I could get the buzzer first (including the first African-Amercian astronaut, something I doubt anyone else in the room knew), I later learned I cost us the match because I didn't put too many points on the final question, which we got right.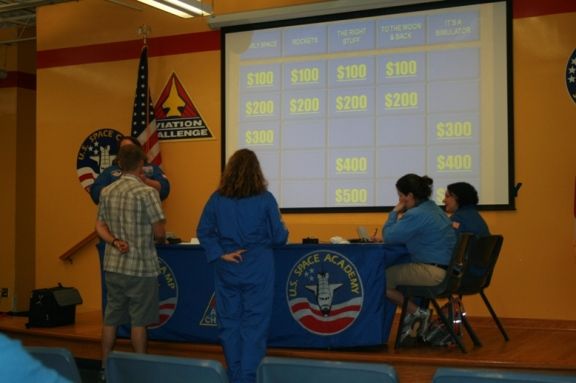 "I'll take know-it-all team mates for $400..."
We had some time to kill, which felt odd because the day didn't have much in it at all. Soon enough, it was time to graduate. The usual things were said and it went quickly. I was disappointed that we didn't get best shuttle mission as I think Wendy and I and our MS spacewalker team did a great job. Out of four teams, we didn't dominate like my team last year had, but we won key award: Best mission patch. The team went nuts when they annouced our name.
Yeah, they cared after all.
One team didn't seem to be too keen on us winning and when I was asked to show the patch around, one person from the team behind us said, "I guess it's easy when you have a profession artist with you." I let it go at that, still unsure if that was a joke or snide comment. I don't care, it weas nice to create two consecutive winning mission patch designs, and great that everyone on the team got the little shuttle stack pin (my second one, both on my lanyard for the next time I go).
The goodbyes were quick and everyone scattered to the four winds right away. Steve and I trolled the gift shop and I then had to head to the airport to pick up my wife. Team Discovery, 2013, was completed.
Am I going back?
Seriously, do you even have to ask?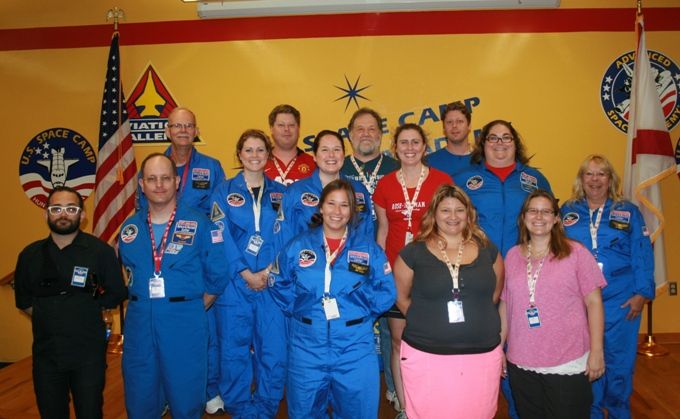 Space Academy, 2013, Team Discovery