Originally posted by Mark Allen. Images restored. Scott WRG Editor
Its existence kept secret throughout the war, the US naval base at Ulithi was for a time the world's largest naval facility.
BY GEORGE SPANGLER
In March 1945, 15 battleships, 29 carriers, 23 cruisers, 106 destroyers, and a train of oilers and supply ships sailed from "a Pacific base." What was this base? The mightiest force of naval Power ever assembled must have required a tremendous supporting establishment. Ulithi, the biggest and most active naval base in the world was indeed tremendous but it was unknown. Few civilians had heard of it at all. By the time security released the name, the remarkable base of Ulithi was a ghost. The war had moved on to the Japanese homeland, and the press was not printing ancient history about Ulithi.
Ulithi is 360 miles southwest of Guam, 850 miles east of the Philippines, 1300 miles South of Tokyo. It is a typical volcanic atoll with coral, white sand, and palm trees. The reef runs roughly twenty miles north and south by ten miles across enclosing a vast anchorage with an average depth of 80 to 100 feet - the only suitable anchorage within 800 miles. Three dozen little islands rise slightly above the sea, the largest only half a square mile in area.
The U.S. Navy arrived in September 1944 and found resident about 400 natives, and three Japanese soldiers. The natives on the four largest islands were moved to smaller Fassarai, and every inch of these four was quickly put to use. Asor had room for a headquarters: port director, radio station, evaporator (rain is the only freshwater supply), tents, small boat pier, cemetery. Sorlen was set up as a shop for maintaining and repairing the 105 LCVPs and 45 LCMs that became beasts of all work in the absence of small boats. Mogmog was assigned to recreation. The big island, Falalop, was just wide enough for a 3500-foot airstrip for handling the R4Ds (Douglas DC-3s) and R5C Commandos, which would presently fly in from Guam 1269 passengers, 4565 sacks of mail and 262,251 pounds of air freight a week. This took care of a few services - but where were they going to put the naval base?
Enter "the secret weapon," as Admiral Nimitz called Service Squadron Ten. Commodore Worrall R. Carter survived Pearl Harbor to devise the miraculous mobile service force that made it possible for the Navy to move toward Japan in great jumps instead of taking the slow and costly alternative of capturing a whole series of islands on which to build a string of land bases.
Within a month of the occupation of Ulithi, a whole floating base was in operation. Six thousand ship fitters, artificers, welders, carpenters, and electricians arrived aboard repair ships, destroyer tenders, floating dry docks. USS AJAX had an air-conditioned optical shop, a supply of base metals from which she could make any alloy to form any part needed. Many refrigerator and supply ships belonged to three-ship teams: the ship at Ulithi had cleaned out and relieved sister ship No. 2 which was on the way back to a rear base for more supplies while No. 3 was on the way out to relieve No. 1. Over half the ships were not self-propelled but were towed in. They then served as warehouses for a whole system of transports which unloaded stores on them for distribution. This kind of chain went all the way back to the United States. The paper and magazines showed England sinking under the stockpile of troops and material collected for the invasion of Normandy.
The Okinawa landings were not so well documented but they involved more men, ships, and supplies-including 600,000 gallons of fuel oil, 1500 freight cars of ammunition, and enough food to provide every person in Vermont and Wyoming with three meals a day for fifteen days. The smaller ships needed a multitude of services, the ice cream barge made 500 gallons a shift, and the USS ABATAN, which looked like a big tanker, really distilled fresh water and baked bread and pies. Fleet oilers sortied from Ulithi to refuel the combat ships a short distance from the strike areas. They added men, mail, and medical supplies, and began to take orders for spare parts.
When Leyte Gulf was secured, the floating base moved on, and Ulithi which had had a temporary population the size of Dallas and had been the master of half the world for seven months, shrank to little more than a tanker depot. Once again, it became a quiet, lonely atoll.
Some nice film footage here:
http://www.youtube.com/watch?v=BEgsA07E9Ok
http://www.criticalpast.com/products/lo ... /1940/1944
Part 1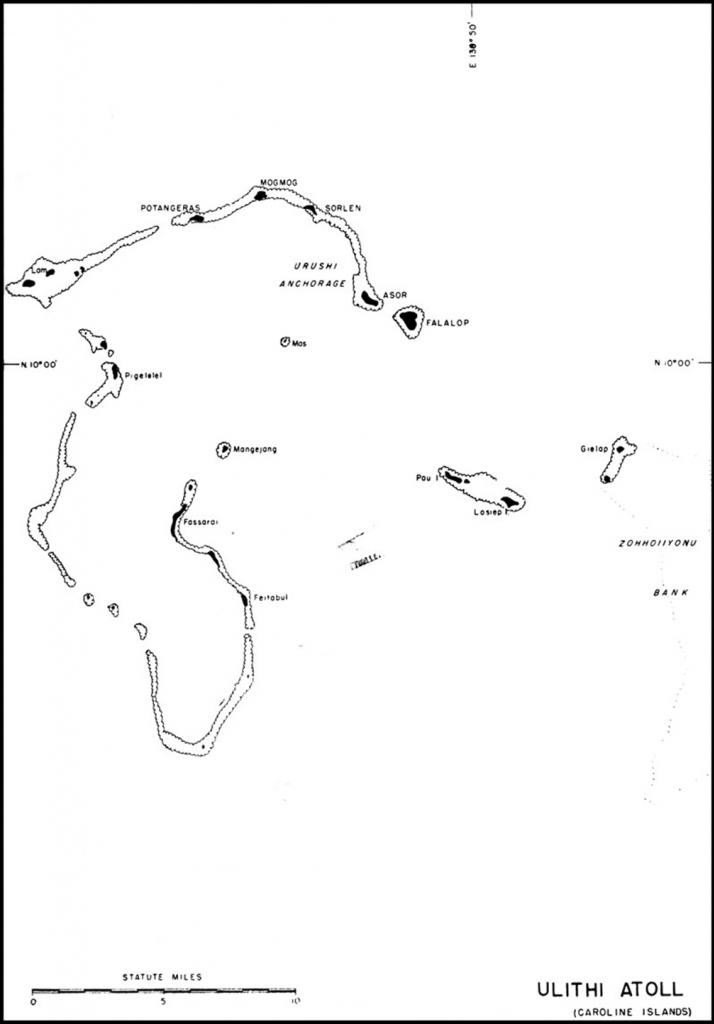 Ulithi Atoll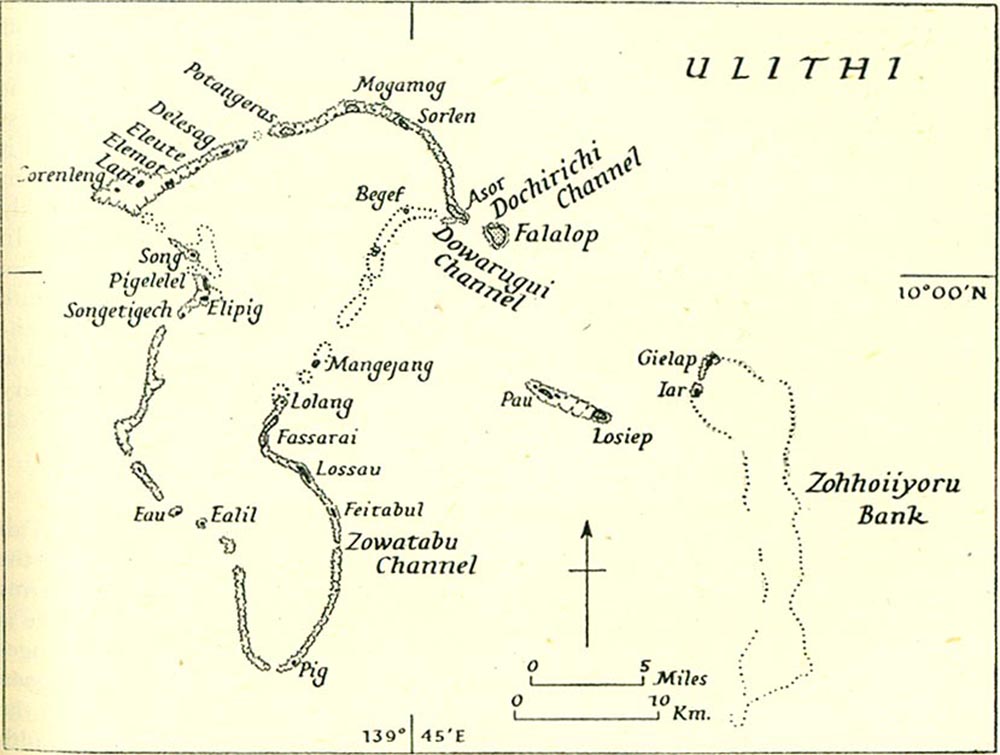 Ulithi Atoll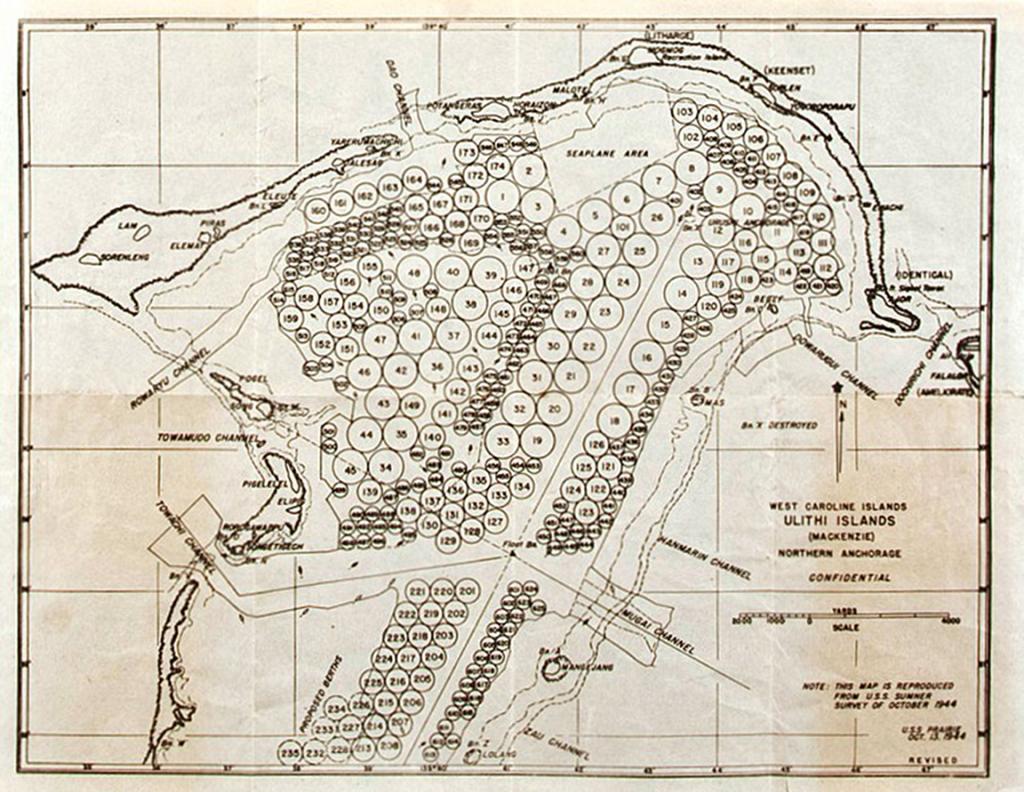 US Navy 1944 berthing chart for the Northern Anchorage of the Ulithi Lagoon, Caroline Islands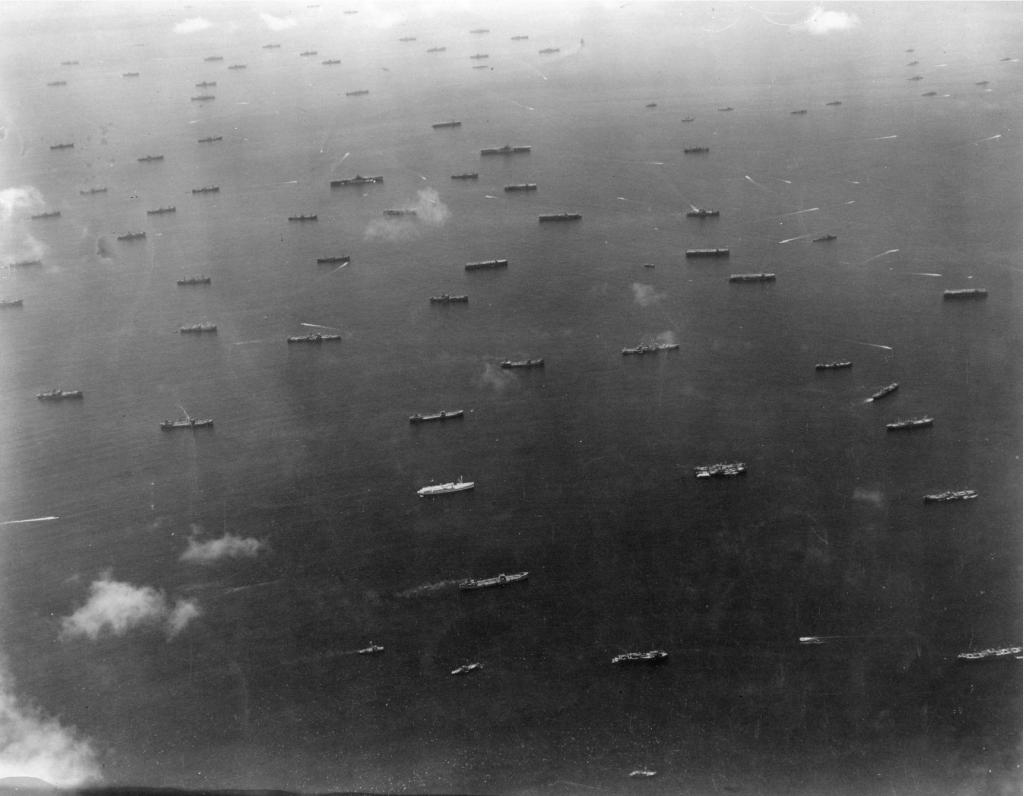 Ships of the 3rd fleet Ulithi December 1944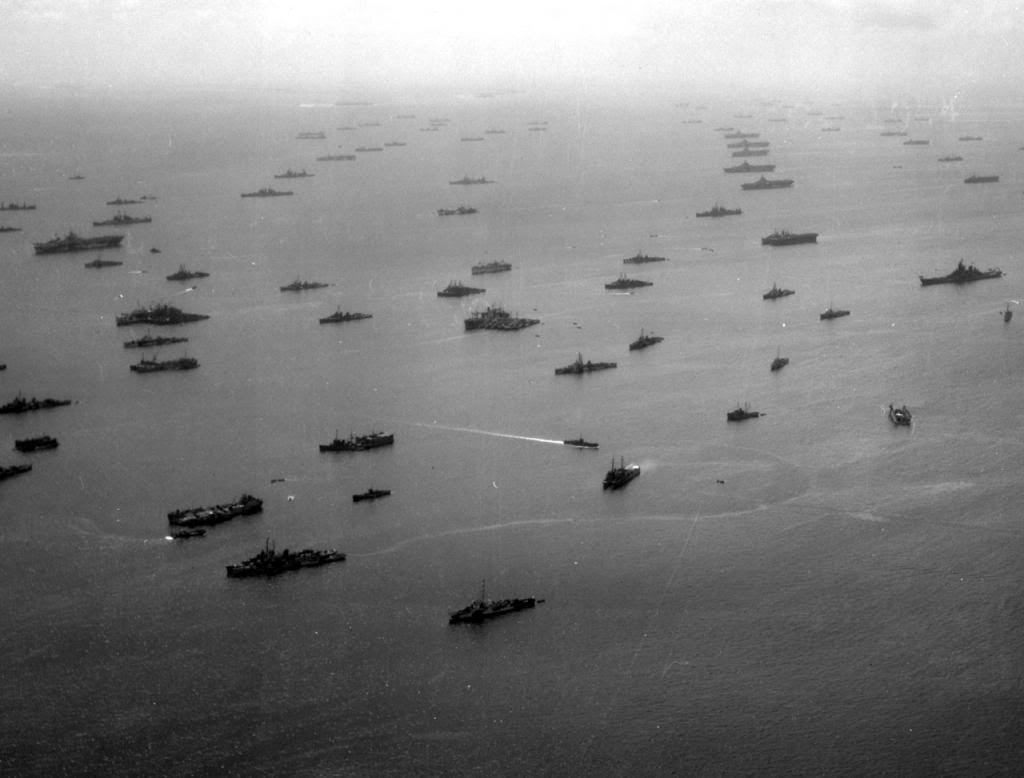 Ships of the 3rd fleet Ulithi December 1944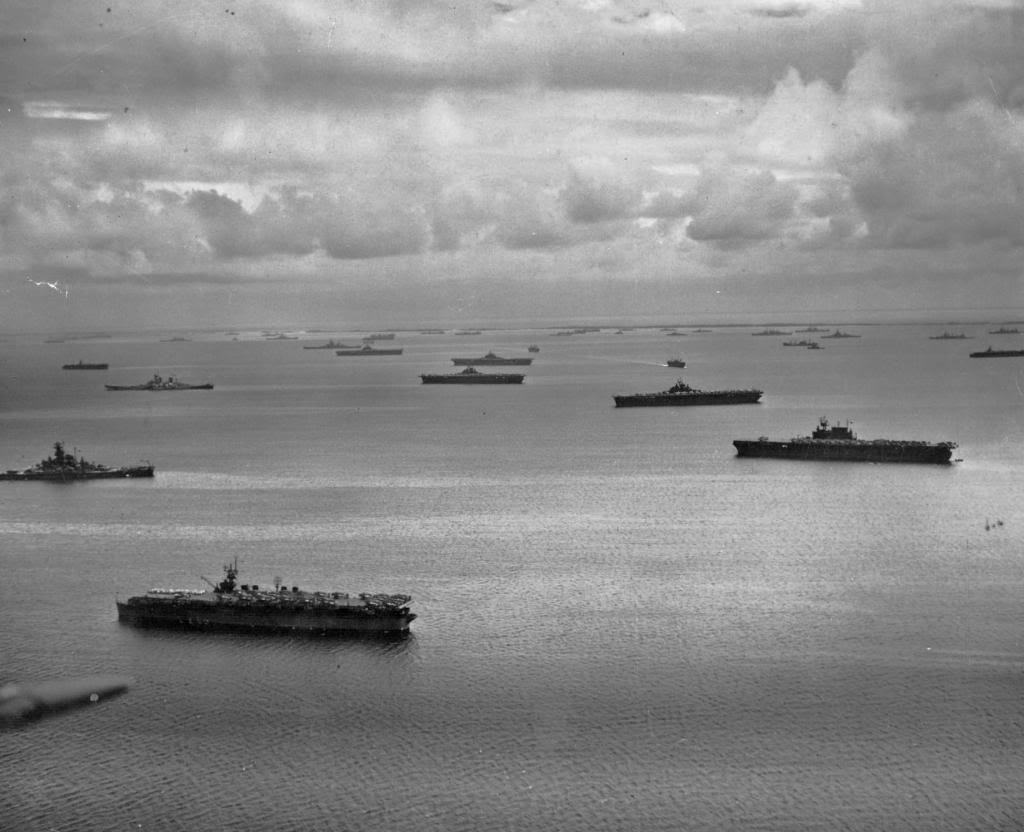 Ships of the 5th fleet Ulithi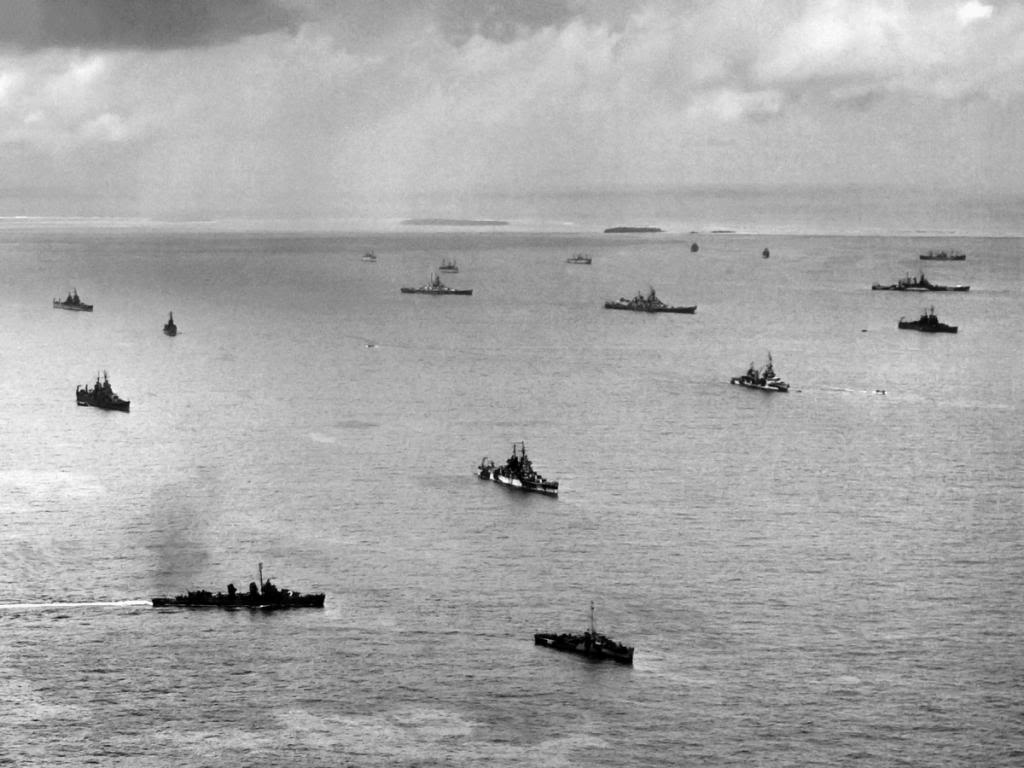 Ulithi January 1945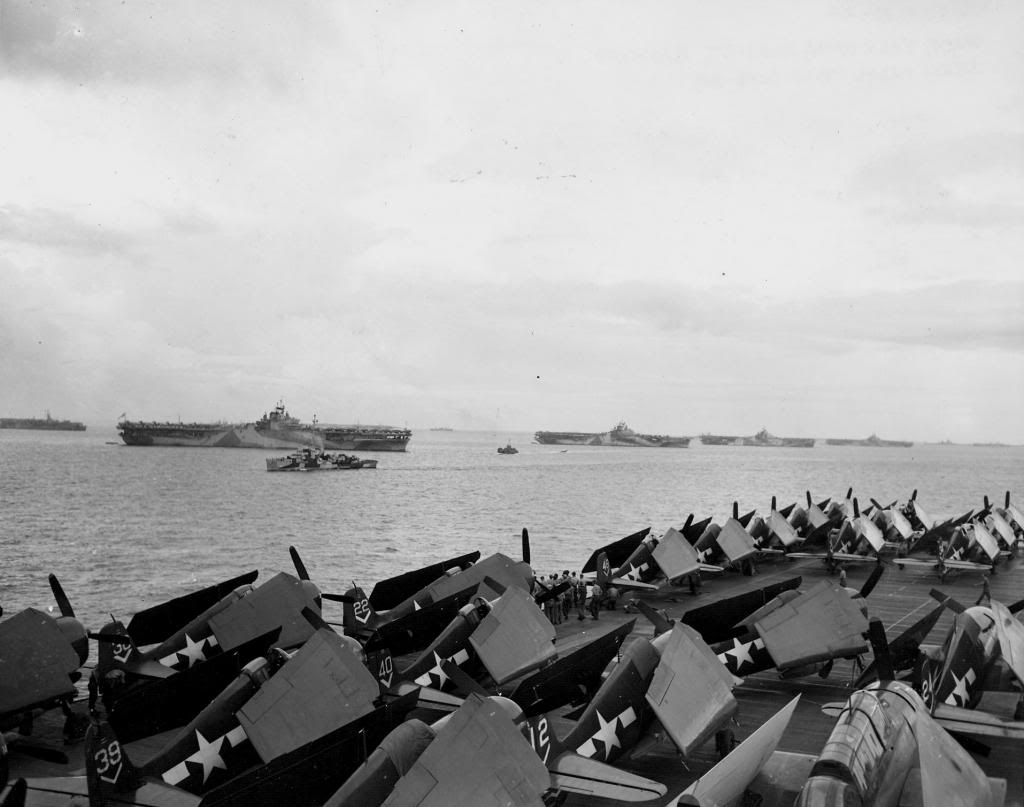 Murderer's Row the carriers Wasp (CV 18), Yorktown (CV 10), Hornet (CV 12), and Hancock (CV 19) anchored in Ulithi Atoll Dec 1944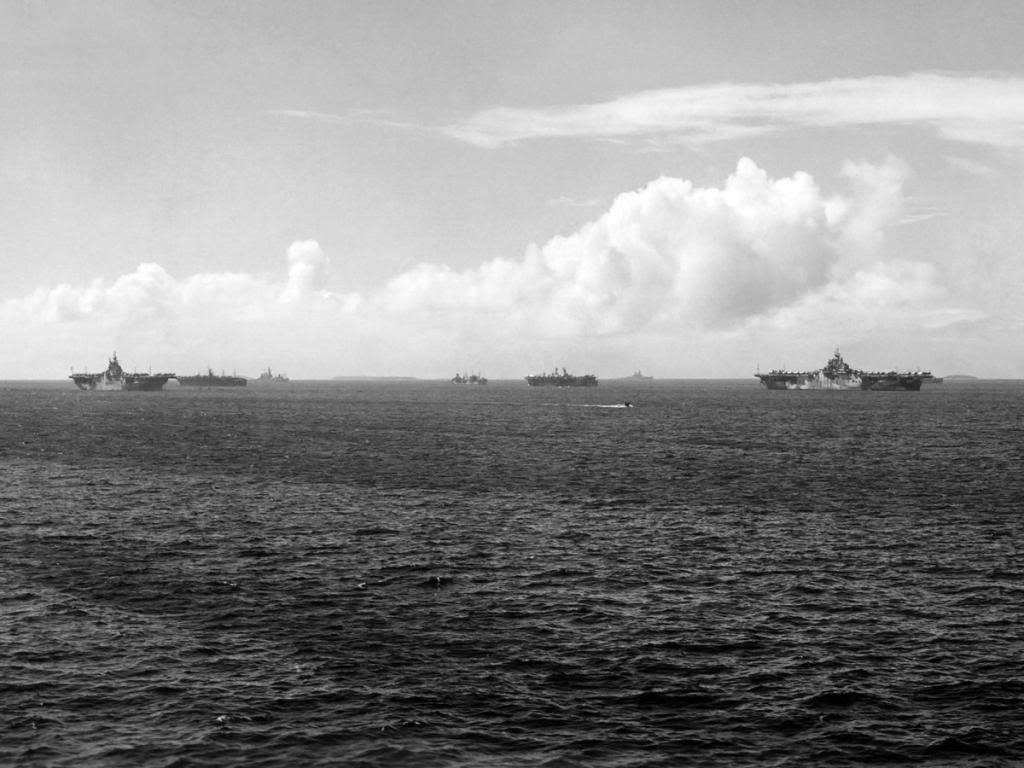 Ulithi Anchorage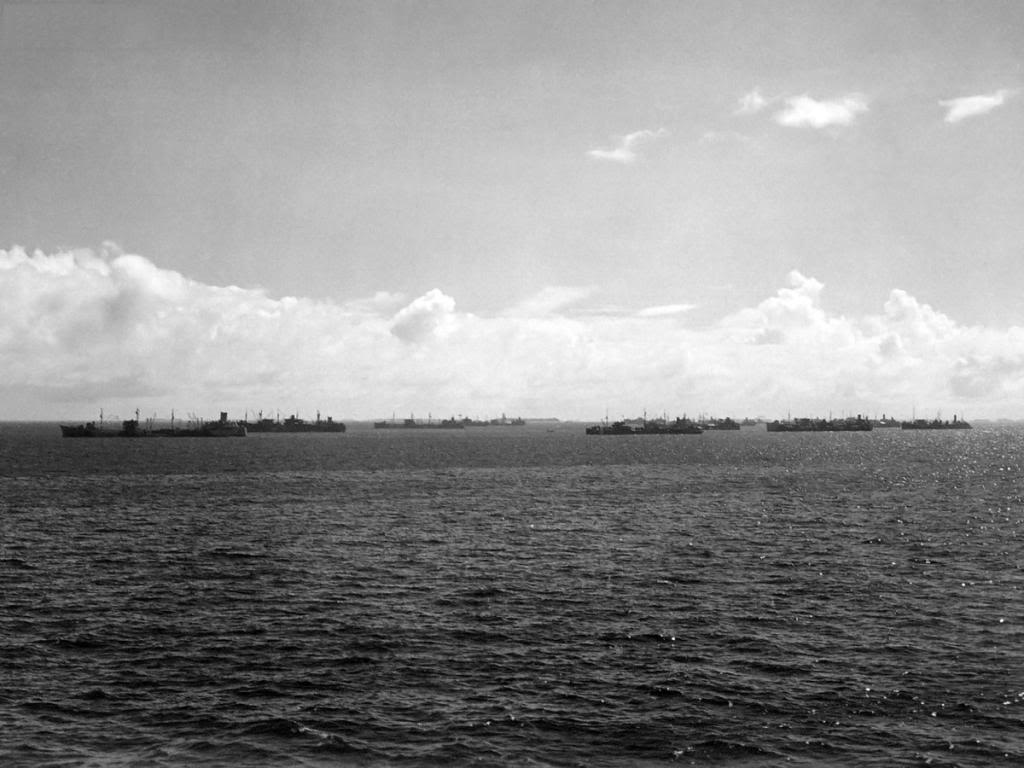 Ulithi Anchorage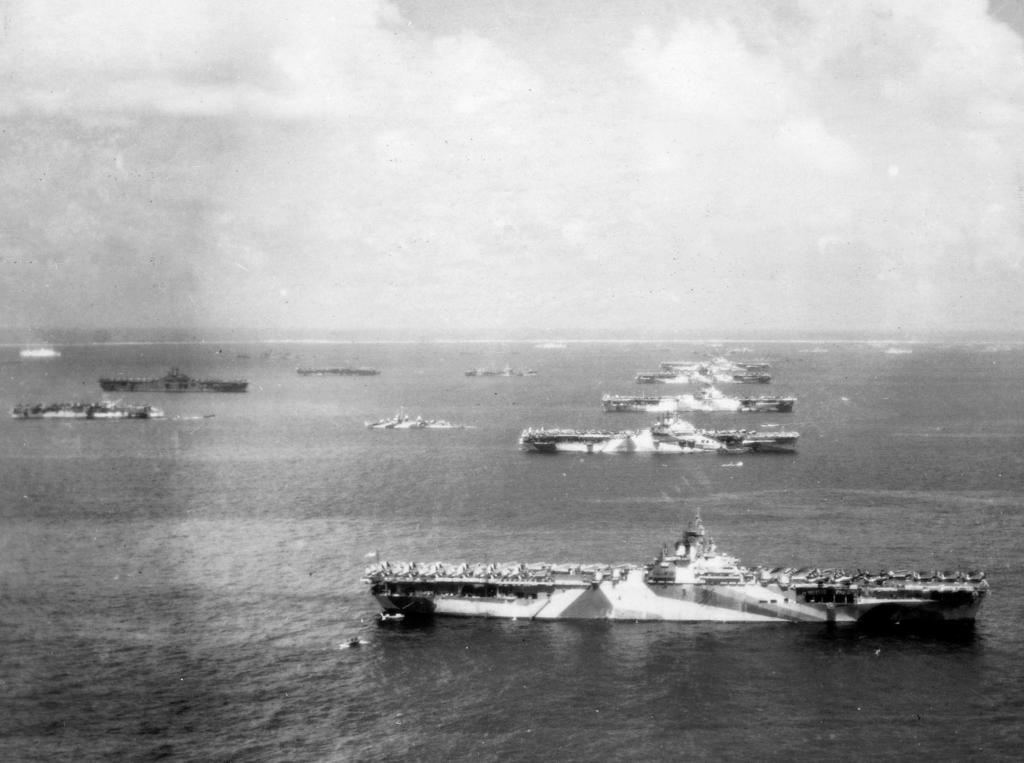 Murderer's
Row the carriers Wasp (CV 18), Yorktown (CV 10), Hornet (CV 12), and
Hancock (CV 19) anchored in Ulithi Atoll Dec 1944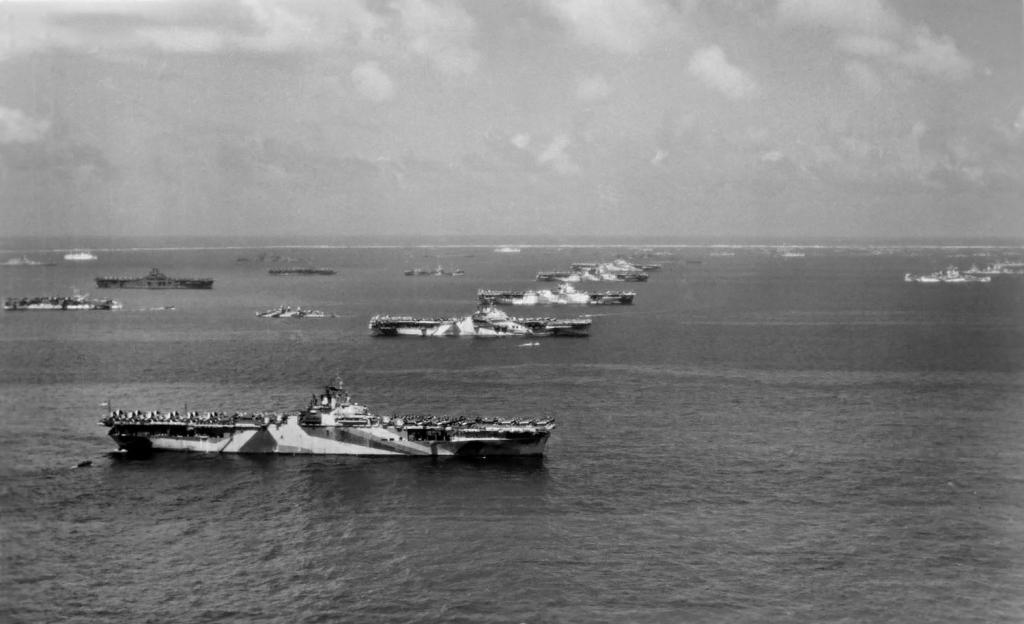 Murderer's Row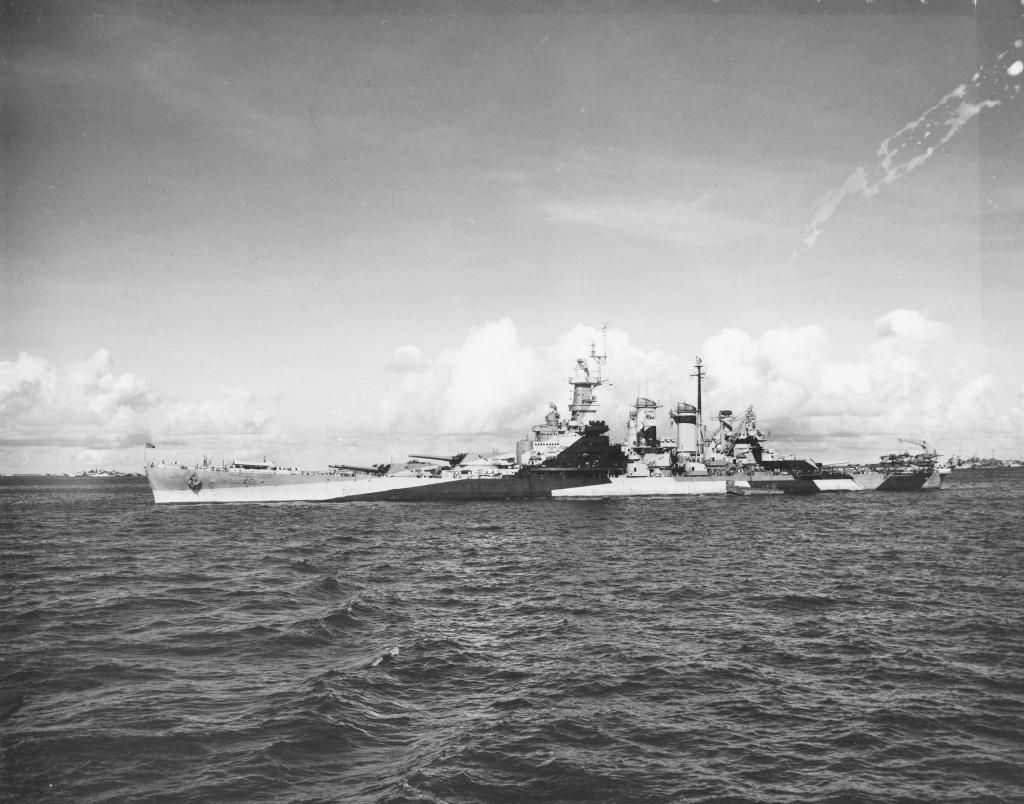 USS North Carolina at Ulithi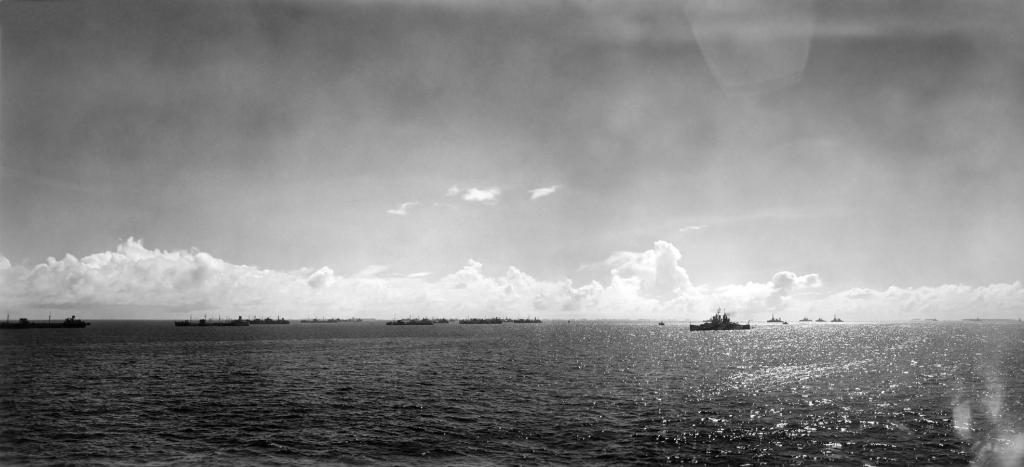 Ulithi Anchorage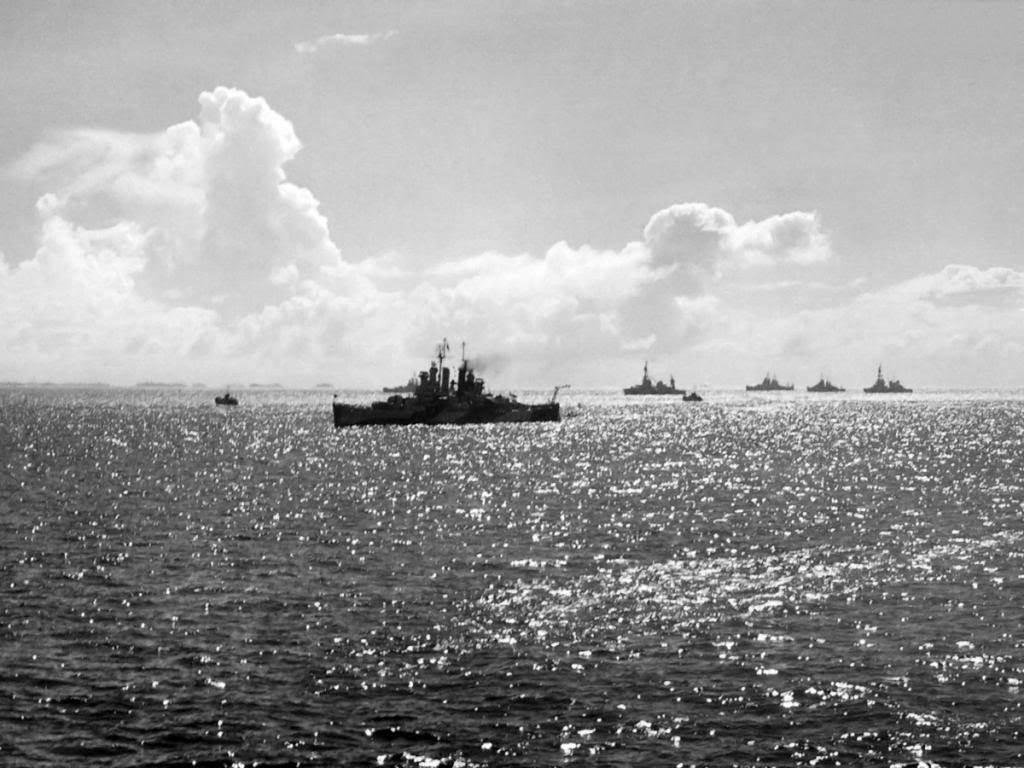 Ulithi Anchorage