I came across this box slammed full of the memories from a WWII P47 pilot that was killed in 1944 as well as his brother in law's personal effects that was killed in 1944. THIS WAS ALL DUG OUT OF THE TRASH!
I recently came into possession of this amazing collection from a guy that was cleaning up an old house in Fort Worth after the owner had passed away. His job was to dispose of all of the "junk" left behind in the house. The new owners had thrown this box along with tons of other items in a dumpster. The guy who cleaned up the property saw this box and was able to save it.
I had set up selling my WWII replica nose art pieces at the Pate Swap Meet in FT Worth and I had the entire nose section of my Lockheed Lodestar on display. The guy walked up and said he had something for me that he wanted me to have because I looked like the kind of guy that would appreciate what he had. He handed me this heavy box full of stuff and my jaw dropped.
The box tells the story of a 22 year old pilot, Lt Thomas E. Bullington Jr. of Ft.Worth Texas. He went missing on 11 April, 1944 in New
Guinea
flying a P47 Thunderbolt. His remains were found a few years later and sent home. This is a complete history of his experiences from the late 1930's up until and beyond his death.
There is also the story of Lt. Rufus J. Lackland III, of Ft.Worth ,Texas, in the box. Rufus had married Bullington's sister and was killed just a few months before Bullington near Mission, Texas in an AT-6 Texan crash. He was flying a night time training mission when the cadet flying the plane crashed the AT-6 he was in, according to the letters that I have read in the box. Shortly after wards Mary Jane, Lackland's wife/Bullington's sister, went to work at Consolidated Vultee working on B24 Liberators. I found several newspaper clippings in Lackland's box on Brigadier General Lackland- the man Lackland Air Force Base was named after. Lackland's grandfather was Col. Rufus J. Lackland I. He was a famous auctioneer in the 1800's and his gavel is in the box!
There are tons of letters home from Bullington as well as letters to him from his parents. The letters are almost unbearable to read when you know the hurt that is going to come to his parents upon his death. I have a complete file that his father saved on his death , that includes the infamous Western Union telegram of his death, the pay that was received upon his death, the letters informing the parents that his body has been found etc. I even have his driver's license from the 1930's when he was 14 as well as his social security card.
One of the more interesting finds is Bullington's log book. It goes up to 5 April 1944, just a few days before he was killed. It even tells of a few crashes and early combat missions in the back. He had reserved the last page for his first Japanese kill--- it was blank. He was shot down by Japanese on April 11th 1944 near Wewak, New
Guinea
in his P47 " Cowtown Cyclone".
There are tons of photos and documentation in the box. It would take weeks to read it all. I find it sickening to think that all of this was pulled out of a dumpster. The stranger that brought me the box says he has Bullington's uniform at home and that he will be mailing it to me! I have never seen a collection like this have you?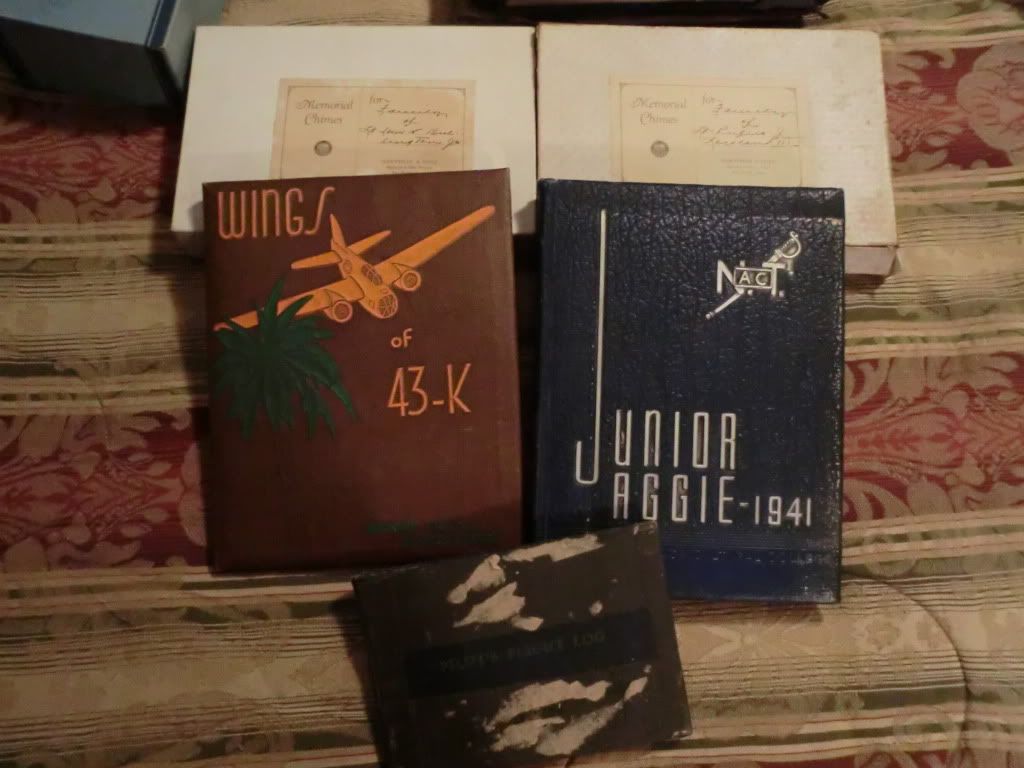 Make sure you click on this link to the photos of the box contents. Keep in mind, these photos are only showing a small amount of the items in "the box"! It takes a few minutes to go through these photos.
http://s1122.photobucket.com/albums/l52 ... e%20story/
_________________
The nose art/aviation artist and general lunatic from Houston, Texas
http://www.jasonbarnettartist.com