While reading the recent thread on the most authentic B-25, it struck me that B-25s seem to change names and appearances more often and more radically than a lot of other types. I got to looking at the old photo files and realized I haven't done one a big photo post in a while, so thought I'd share some. Here is a look at some B-25s from the past. As with my other photo posts, these pics were taken by me and my friend Dick Kamm. To keep the size of the post reasonable, I'm limiting this to flyers; no static display B-25s. All of these pics are from before 1995. In serial number order: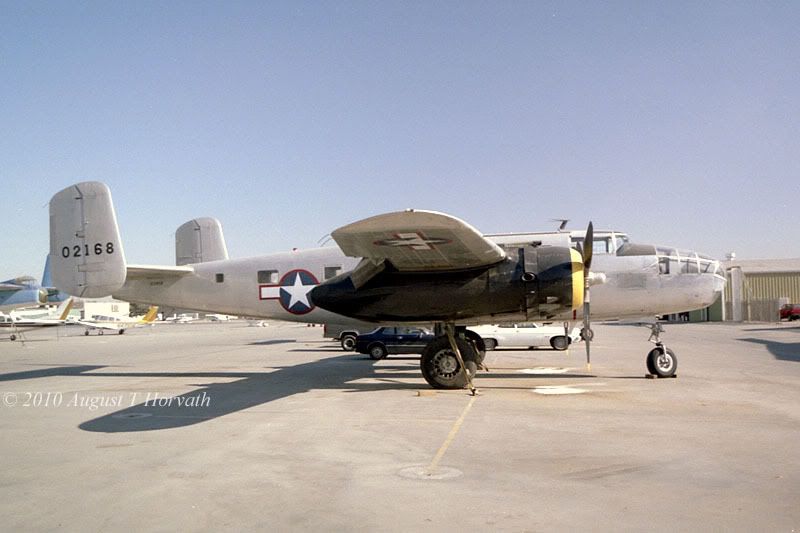 1. 40-2168 during the conversion process from Proud Mary to Miss Hap, 1990 or so.
2. Handsome shot of B-25D 43-3634 Gallant Warrior, 1978. At this time still basically in RCAF transport configuration with white top and solid nose. Today Yankee Warrior.
3. B-25H 43-4432 in 1969, wearing "Berlin Express" paint from the Catch-22 film. Later acquired by EAA ...
4. ... where full restoration began; this pic from about 1977. Later to emerge as City of Burlington, flown intermittently until the 1990s.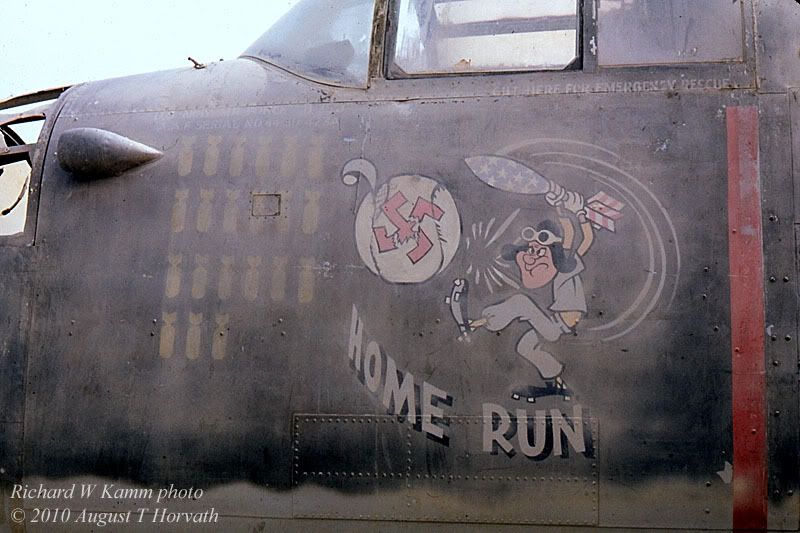 5. I wish I had pics of the other 3 or 4
Catch-22
Mitchells surrounding 43-4432 in pic #3 above, but all I have is this one nose art shot of one of the others. This looks like Catch-22 nose art, but I haven't seen a record of a Home Run being used in the film and don't know which bird this is.
6. B-25H 43-4643 as a Mantz camera ship, late 1960s. Vanished 1978 in Colombia, said to be crashed while drug running.
7. 43-28204 Pacific Princess in 1988. I liked the tri-tone blue better than the current natural metal.
8. 44-29199 In the Mood, also 1988. Still looks about like this, as far as I know.
9. Reaching back to 1977 for this shot of 44-29835, the Confederate Air Force's Rowdy's Raider. Most CAF aircraft had gone to at least semi-accurate military paint schemes by this time, but the Raider was already inactive with terminal corrosion and was soon donated to the USAF Museum and put on display at Lackland, where it remains today.
10. 44-29939 at the Tallmantz facility, 1966. Later it would appear in
Catch-22
and then be restored as ...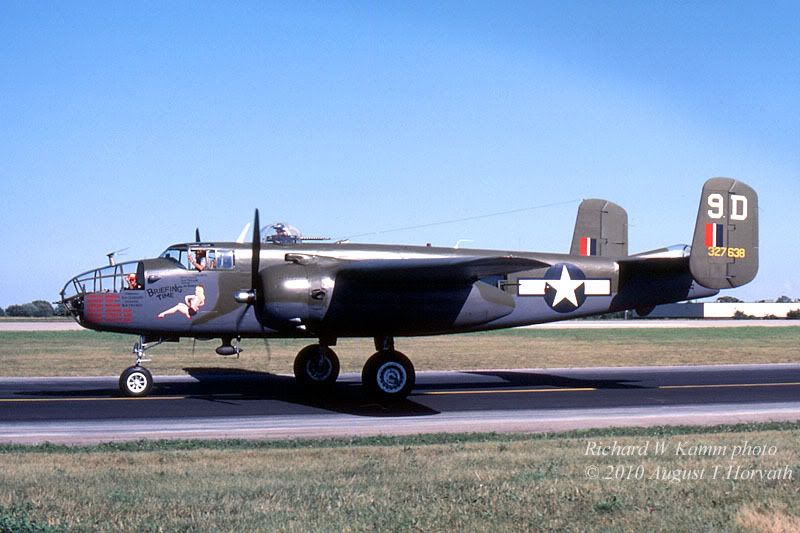 11. Briefing Time, shown here in 1980 outclassing the other B-25s, and most other warbirds, at Oshkosh.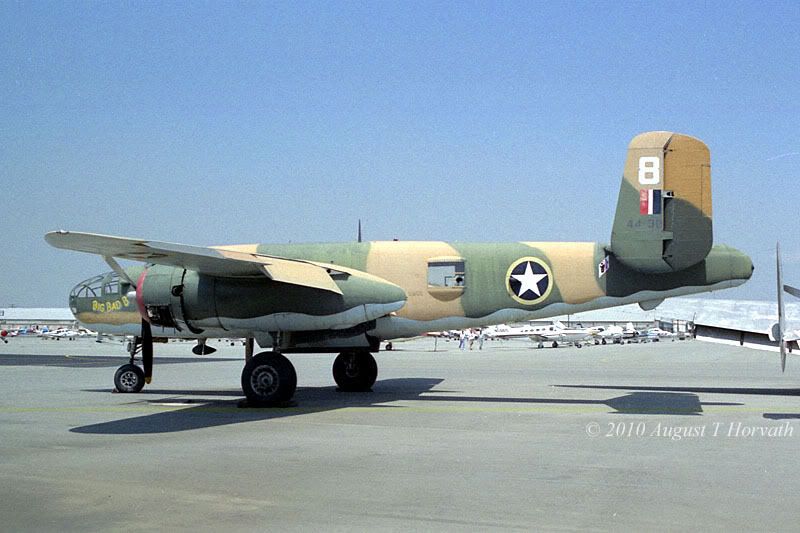 12. 44-30210 picked up her name, Big Bad Bonnie, filming
Hanover Street
. In the U.S. she went on static display at March AFB for several years. This is just after she was liberated from that stint, back at Chino in 1991 for restoration. Still being restored as far as I know.
13. The CAF's 44-30324 I See No Problem, around 1978. Later to Tallichet and, with a glass nose, on loan to MAPS. Now in San Martin, CA, getting some TLC.
14. 44-30254, ex CF-MWC tanker 337, at Arlington, WA, in the early 1990s. Now under rebuild for Paul Allen.
15. 44-30456 looking pretty spiffy in the late 1960s. Better known as ...
16. Silver Lady, shown here 1987 with Bill Arnot. Now at Tillamook, still looking like this.
17. N201L, 44-30606, an executive ride in the late 1960s, complete with curtains behind the waist gunner's station ...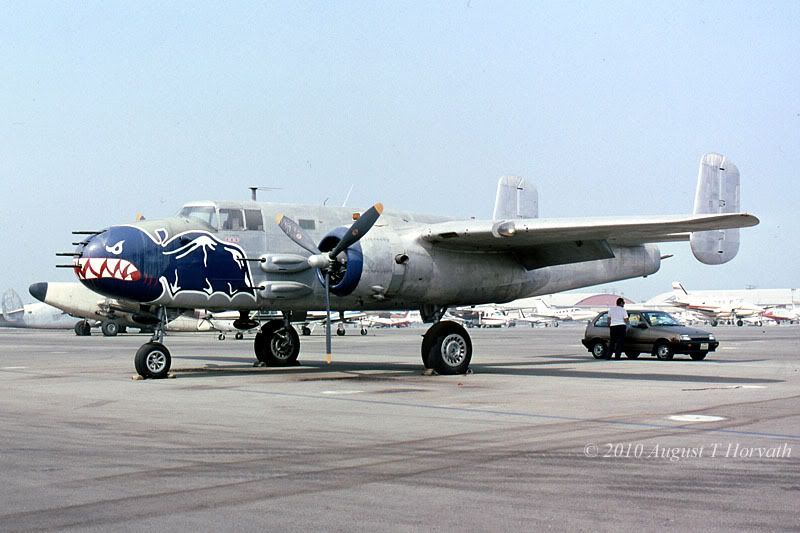 18. ... later to Chino where it briefly wore this attractive nose art (1988) ...
19. ... and by the early 1990s pseudo-PBJ Tootsie, in a rather unfortunate color scheme. Note the interesting U.S. insignia treatment of a transparent field behind the star, later changed to the traditional blue, but still wrongly proportioned.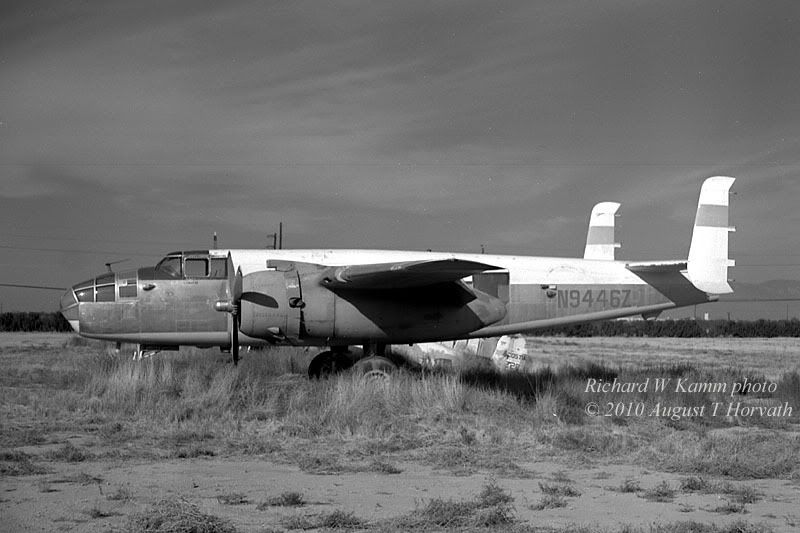 20. Still, a better fate than that of 44-30737, here in the weeds in the 1960s. Destroyed in a fatal crash in 1976.
21. Another that didn't fare too well is 44-30761, here with the Air Museum at Ontario in 1969. This one was already looking pretty sad by 1972, according to its Warbird Registry photo, and has continued to decline.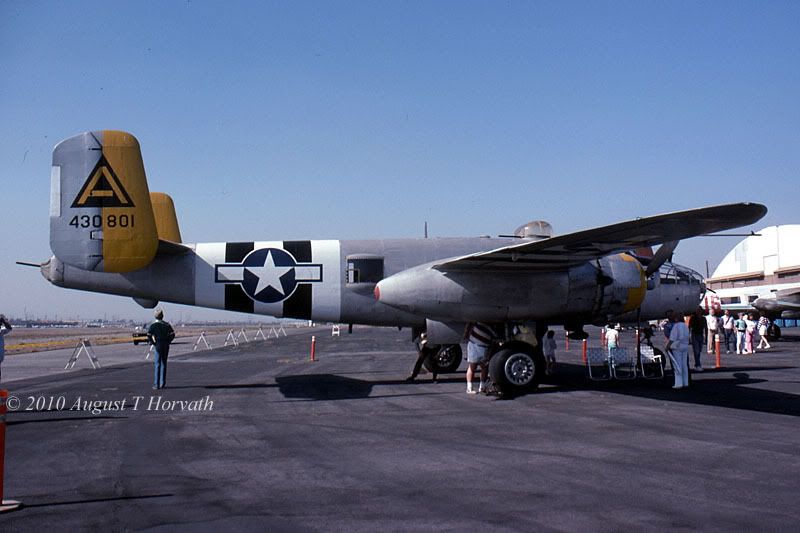 22. 44-30801, Challenge Publications' Executive Sweet, was familiar at many California shows in this scheme before switching more latterly to Air Commando colors. This shot from 1988.
23. 44-30823, famous Mantz camera ship, in 1966. Now Pacific Prowler.
24. Persistently clad in this strange green-over-tan camouflage, 44-30832 has worn a number of different names over the years. It was Bronco Bustin Bomber in this 1992 photo; now it is called Buck U.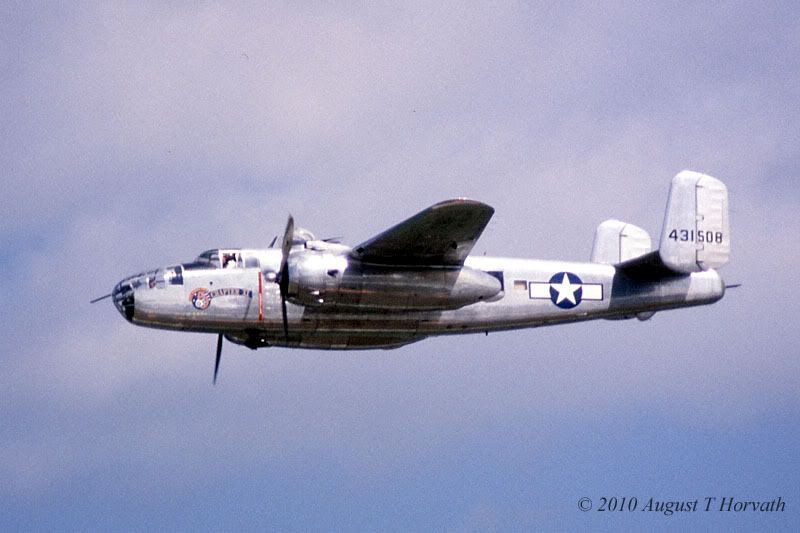 25. As an attorney I can appreciate probably the only warbird named after a statute, in this case Chapter XI of the U.S. Bankruptcy Code. But maybe the name jinxed 44-31508, which is now the unlucky Lucky Lady in Frankin, VA.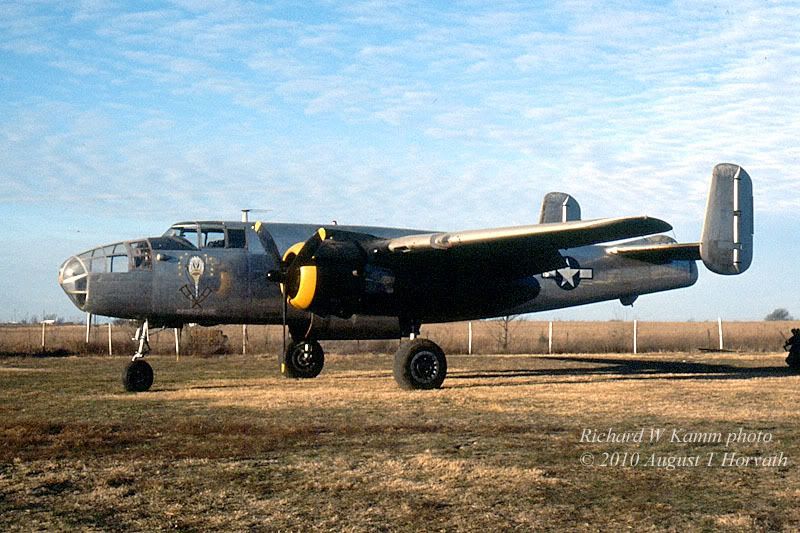 26. Photographed at Flying Tiger in 1977, Junior Burchinal's famous Ruptured Duck, 44-86698. More recently, the very realistic looking Sunday Punch in California.
27. But, a bit of a mystery; on the same day in 1977, also at Flying Tiger, was another Ruptured Duck, this one looking decidedly more ruptured. Anyone have an ID for this one?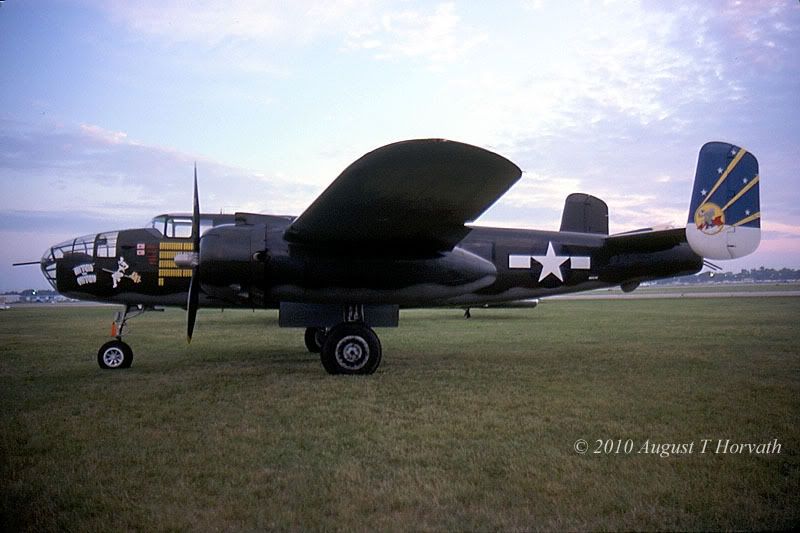 28. Bob Pond brought Mitch the Witch, 44-86747, to Oshkosh in 1987. This was before many of the Pond aircraft, including this one, started to be repainted with more garish nose art.
29. 44-86777, The Devil Made Me Do It, in 1982. This was one of the most stock TB-25Ns around at that time. Nowadays it goes by the name Martha Jean.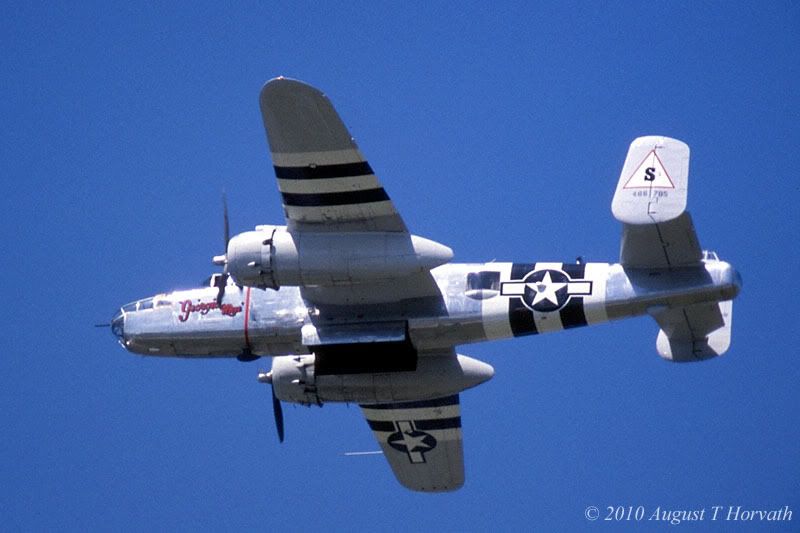 30. 44-86785 Georgia Mae has had a consistent appearance through the years; here in 1986.
31. Also consistent, and also owned by Wiley Sanders for quite a while, was 44-86797 Old Gray Mare. This is from the early 1990s.
32. Back to the late 1960s, 44-86843. Later in Catch-22, but not destined to remain a flyer, it is now Passionate Paulette at Grissom AFB.
33. One of the more attractive B-25s in 1987 was 44-86893, with John Stokes.
34. Here's a closeup of 44-86893 with her nose art and name The Fairfax Ghost. Today she flies the Red Bull colors in Austria.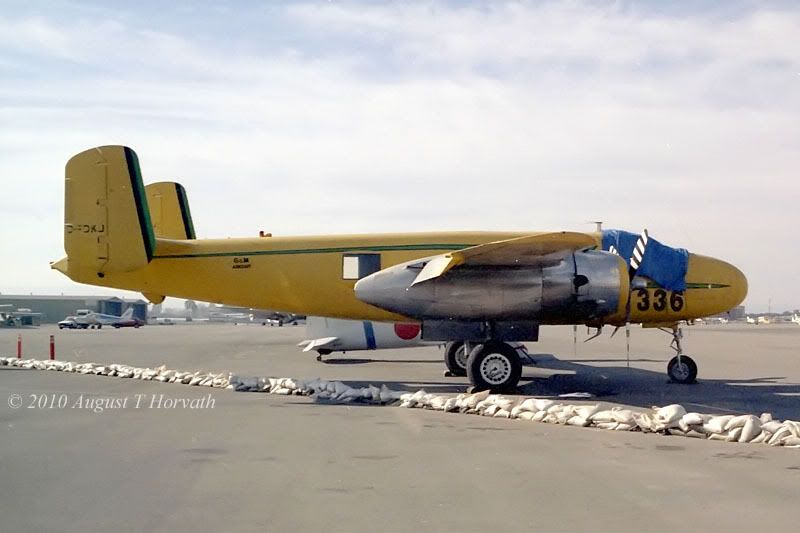 35. Spotted at Chino in 1992, 45-8835 C-FDKU Tanker 337, sister to Paul Allen's machine. Like Allen's, she got the first class treatment and is now Betty's Dream.
36. Canadian Warplane Heritage's 45-8883 in her initial configuration, 1976. At this point the plane had no turret, tail gunner's station or nose guns.
37. These had all been added by 1982. IMO this was the best and most authentic this plane ever looked, before they started slapping on full invasion stripes and nose art.
38. Coincidentally the next serial, 45-8884, was also in Canadian colors for a time. City of Edmonton was a refreshing look on the warbird circuit. Later to become the less interesting Lady Luck.
39. 45-8898 has had bad luck with paint jobs. By the early 1990s, when this was taken, it had picked up this strange interpretation of RAF camouflage. If that wasn't bad enough, it later picked up invasion stripes, U.S. insignia, and the name Axis Nightmare. But at least it's still flying.
40. Here's one I can't ID, spotted in 1992 at the Tallichet compound at Chino. It's hard to keep track of all the B-25s painted as 40-2344. Maybe someone knows where this ended up.
Finally, not a B-25, but a PBJ. 35857, here as Big Ole Brew and Little Ole You at an airshow in St. Louis in 1989, and of course we know she's being nursed back to health in Camarillo.
Hope you've enjoyed these.
August