Sorry for the slow reply.
When we started on the Harpoon in 2010 she had under 20 hours on the engines since they were built by Ford in 1945. Needless to say there was a lot of down time. She had sat for 16 years since her last flight.
We inspected the engines, installed an oil filter kit in order to catch any crud in the oil system. We checked the oil screens and sent in many oil samples for analysis from the start and after various engine runs as well as checking the screens again and again. She showed nothing out of the ordinary and was surprisingly good really.
We went off to various air shows as chronicled here for 6 years of flying when the left engine failed on our way out of the Truckee Tahoe Airfest. We had put 65 hours of our flying time on her ourselves or 85 hours total time on the engines since new. 85 hours and 71 years.
The previous left engine(s) had some interesting history on this Harpoon. I talked to a guy who flew as a copilot on Tanker 101 and he told a story about the left engine making metal and they knew it. They decided to keep flying until it just gave up. He said he was concerned about this, being a new copilot and all, but when he told the pilot that he was worried he said not to sweat it. Sure enough, a while later the left engine started to pack it in and they feathered it. The copilot said he was in full sweat mode because they were at a fire that was several thousand feet below the level of the airport where they were operating. Once again the pilot said don't worry, watch this, and they did a single engine climb up and landed without any issues. He said he was amazed and learned a lot from his Tanker 101 experiences.
He went on to tell me that he helped to change the bad left engine. Remember that there were so many surplus engines available that they would rarely, if ever, pay for an overhaul but would simply pull an engine out of the can and hang it on the wing. If it ran then great. If it didn't then they would open up another can and try again. Often these engines were either new or were removed from Harpoons at Litchfield by the Navy and typically had very little time.
When you have an engine failure and it is making metal then you need to clean out the oil system before you put the next engine on. If you don't then the metal from the previous failure will tear up the new engine. Cleaning out the oil system properly is quite involved so everything that carries the oil needs to be flushed correctly. The prop barrel and dome, prop governor, hoses and lines and the oil cooler which needs its own special attention.
Evidently they didn't do a thorough job as the copilot said that the new engine failed soon after it was installed. As a result the owner, Bruce Kinney I believe, lost his contract and he had to declare bankruptcy because he was down for too long. The copilot said that he was owed a lot of back pay but lost it in the bankruptcy. He went on to say that many years later Mr. Kinney tracked him down and gave him the pay that he owed him. He was floored by this and said it was a testament to Kinney's integrity. Cool story.
In the aircraft records I found this: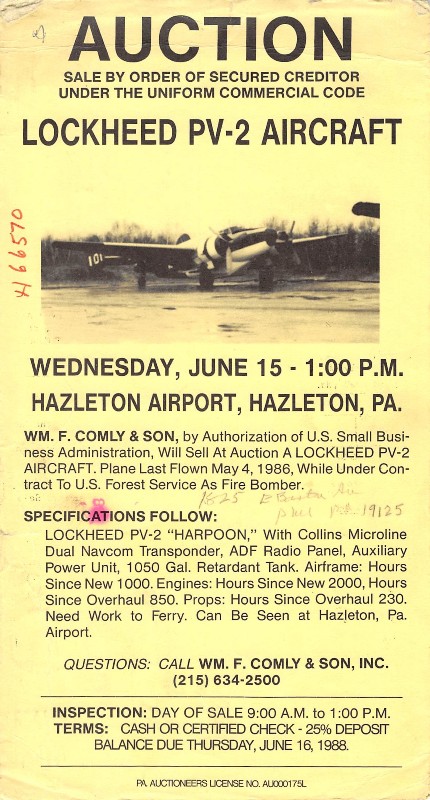 I think this was the court ordered bankruptcy sale after Kinney had to close up shop.
When Ralph Johnson bought Tanker 101 he had two new engines put on it and flew it out and parked it at his ranch in California. He had bought three other Harpoons as well which went to Schellville airport.
Skip to 2013 when we were preparing to take the Harpoon to Oshkosh and Topeka for the shows. The outboard wing tanks were inoperative so we were limited to inboard fuel or about 500 gallons. 500 gallons does not provide a lot of range with two R2800's so I found two 155 gallon drop tanks and the rare fuselage fuel tank also abound 155 gallons. These gave un an additional 3 hours of endurance.
To install the drops we needed to replace the original 1945 dated rubber self sealing fuel lines that ran through the box wing spar to the center section. To get access to them I had to pull the main oil tanks. When I pulled the tanks I wanted to clean them out so I dumped in several gallons of avgas and started cleaning out the bottom of the tanks. When I the did it looked like I was panning for gold as all of this sparkling metal showed up in the left tank. The right was perfectly good. It looked like our left engine was making metal and our hopes for OSH and beyond were down in the sump too. I pulled the oil screens and nothing was there. We did another oil analysis and nothing was there either. It turned out that the metal was from the previously mentioned failure. The metal was held in place in the thin layer of sludge at the bottom of the rubber tank. I had a new set of tanks so I just replaced them and kept checking the screens and oil analysis and nothing ever showed up.
Skip to 2016 and we had the left engine fail. It is entirely possible that it was some of that some of that metal might have come loose and scored the main bearing which lead to its eventual failure. It could be that it was caused by the engine being mostly idle for 70 years. It could have been any number of things. I believe that we did the best we could within the constraints of our museum's budget or lack of. We really do want to send the engines to Ray Anderson and have him go through them and give them his blessing. This will be about $30-50K per engine.
The plan is to take the failed engine to Ray for a teardown and evaluation. We will then start the fund raising campaign to get the old Ford fixed. Once that is done then we will install it and take that engine off for the same Anderson Aeromotive treatment, hopefully before any problems occur.
There are no guarantees in any of this old aircraft business. I have seen fresh overhauls not make it past their first flight and I have seen tired original engines go the distance and beyond. All we can do is take the best care of them so they will last as long as possible.
_________________
To donate to the PV-2D project via PayPal click here
http://www.twinbeech.com/84062restoration.htm
We brought her from:

to this in 3 months:

Help us get her all the way back

All donations are tax deductible as the Stockton Field Aviation Museum is a 501c3 nonprofit organization. Tell a friend as the Harpoon needs all the help she can get.
Thank you!
Taigh Ramey
Vintage Aircraft, Stockton, California
http://www.twinbeech.com
'KEEP 'EM FLYING…FOR HISTORY!'