Hey Neal,
I recall now, our previous conversation on another B-26K thread about this aircraft.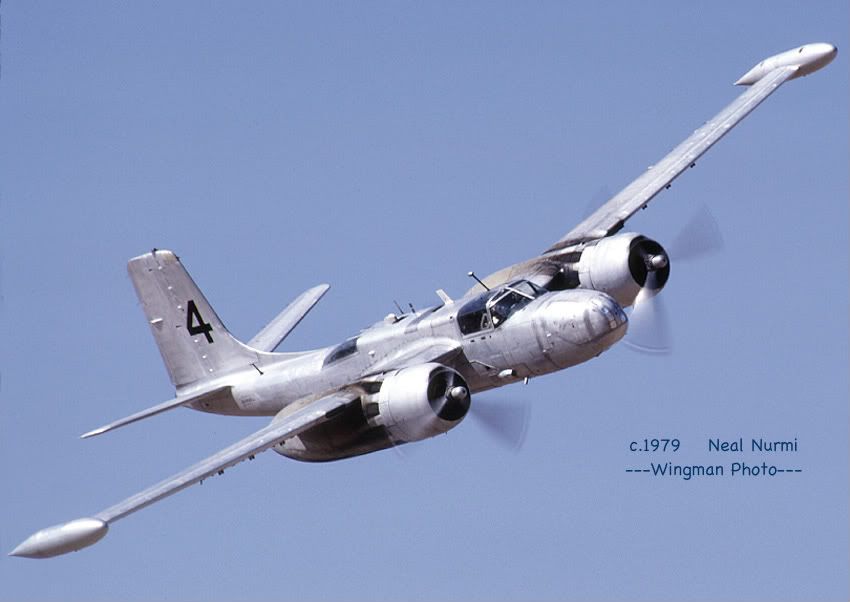 Some K models had the standard cowling of the earlier Invader series. While others had later style "K" specific cowling. I believe it was based on where in the production line they were.
I believe all three of photos above (that you've previously posted) are not Denny's plane, but rather the civil registered K model that eventually ended up with the NMUSAF. It had the earlier cowling and standard propellers when delivered to Wright-Patt. The cowling and props were subsequently changed during restoration at Wright-Patt, using the cowling and paddle blade props that came from the Florence Air Museum "K" model that was scrapped. The last photo, still in camo paint, is before it was stripped in preparations for racing it at Reno before it was acquired by the NMUSAF
Here's proof that the B-26K above ended up at the NMUSAF. Click on link below:
http://www.airliners.net/photo/USA---Ai ... 0239452/L/
You can still even see the reminence of the 4 that was on the tail!
And here is how she looks today:
http://www.nationalmuseum.af.mil/shared ... 4P-047.jpg
Here is the list of
SURVIVING
On-Mark Engineering B-26K-OM Counter-Invader conversions for use in Vietnam. The B-26K was redesignated as the A-26A-OM in 1966 due to Thailand banning bomber designated aircraft operating from it's airfields.
B-26K
64-17640 ex A-26C 44-35896 To civil N267G then N2294B.
Preserved at South Dakota Air and Space Museum,
Ellsworth AFB, SD.
B-26K
64-17651 ex A-26B 44-34119 To SEA 1967 as "Mighty Mouse"
To Davis-Monthan 1969.
Preserved at Seoul Museum, Korea.
B-26K
64-17653 ex A-26B 41-39378 To SEA 1968.
To Davis-Monthan 1969.
Preserved at Pima County Air Museum, Tucson, AZ.
B-26K
64-17666 ex A-26C 44-35483 To SEA 1968.
Preserved at Hurlburt Field Museum, FL.
B-26K
64-17676 ex A-26B 41-39596 To SEA 1966.
To 1ACO WG England.
To Davis Monthan 1969.
To civil N268G, G-GXTF, then N22939.
Preserved at USAF Museum, Wright-Patterson AFB, OH.
B-26K
64-17679 ex A-26B 44-34198 To civil N269G, C-GXTG, then N4988N.
Now owned by an anonimous owner in California undergoing restoration at the Vintage Flying Musuem Fort Worth, Texas
This is the information on Wally McDonald's B-26K that he crash landed at Chino on February 9, 1978.
B-26K
64-17657 ex A-26C 43-22649
To civil N62104, then N99218.
Destroyed in crash landing 2/9/1978
Nose section on display(loan) at Booker Aircraft Museum. see photo here:
http://www.abpic.co.uk/popup.php?q=1059817
This is the information on the Florence Air Museum's airframe:
B-26K
64-17671 ex A-26C 44-35820 To SEA 1966.
To Florence Space Museum, South Carolina
Later scrapped for spare parts.
Engine cowling and propellers to NMUSAF for use on B-26K 64-17676