Credit Bob "BeeBee" Ball of Hayden, Idaho with the photos I will post below:
His album contained mostly photos of 464th & 465th BG B-24s. Of the 465th aircraft I could identify most were from the 780th and 781st Bomb Squadrons. Two from the 483 BS/465th BG were Blue X, a B-24H-15-FO, 42-52464 named "Rough and Ready" and Blue A, another B-24H-15-FO, 42-52473, named "PITH AND MOAN" His album had 3 or 4 photos of "V Grand 5000". I tried to look close to see if Nathan's name appeared anywhere in these photos of V Grand (B-24J-195-CO, 44-41064) but didn't see it.
The right side of Rough and Ready said "Rough and..." and had a scantly clad blonde with two six shooters in her hands and wearing a cowboy hat (see: b24bestweb). The left side nose was "...Ready" and here an apparent red-head was...well...how else can you say it...Ready.
Here's a couple of photos of PITH
AND
MOAN:
Here are two snap-shots of "BeeBee" and crew working on removing the tail on a B-24 marked with a big Q on the fuselage. Could this be Blue Q ???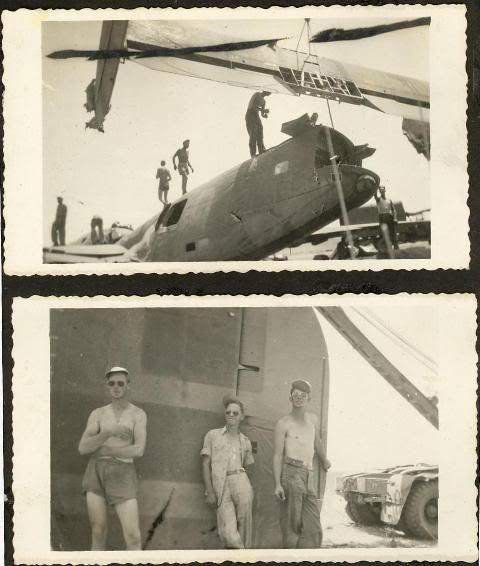 Here is a B-24 with a covering of snow and it looks like it may have a Q on the fuselage as well...
Here are some of his "V GRAND 5000" from Bob Ball's album: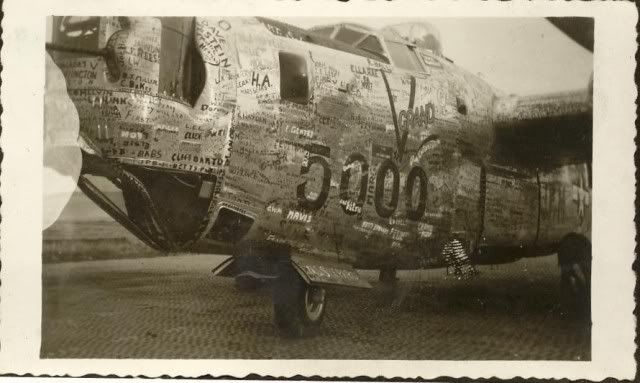 I think I have more than may be 783rd BS/465th BG possibles. PM me sometime.
Lowell