Sun Nov 02, 2008 8:26 pm
From the E to the G, from open windows to swivel slots, can anyone post the different versions of gun mount and hatch used by the B-17 radio operator? And ... I rarely see a .50 barrel protruding on touring warbirds ... do any surviving B-17s have completely accurate radio operator weapons/mounts?

Ken
Sun Nov 02, 2008 9:22 pm
The Tallichet B-17 did. Not sure if it is still in there.
Sun Nov 02, 2008 9:45 pm
I seem to remember their being one in the stowed position on Fuddy Duddy.

I look to see if I have a photo.
Sun Nov 02, 2008 9:52 pm
Man I flew in Fuddy Duddy two years ago, and I don't remember that, but I will check as well. I know that the hatch was in the open position when we flew, and it had some netting over it as well.
Sun Nov 02, 2008 9:55 pm
I toured "Fuddy Duddy" a few years ago and saw the radio room gun in the stowed position too.
Here's a photo I found on a Utah EAA site of "Fuddy Duddy":
http://www.cpuchip.net/B17DayTwo/images ... 05_JPG.jpg
Last edited by
warbirdguy
on Mon Nov 03, 2008 9:39 am, edited 1 time in total.
Sun Nov 02, 2008 10:35 pm
Sentimental Journey never had a radio ops room gun, it was deleted before the -85-DL series.
Sun Nov 02, 2008 10:47 pm
I can't find any of my photos of Fuddy Duddy. That's a bummer. I worked and flew with them at the Boeing Field stop during the EAA tour. Hopefully I didn't loose the files. I guess it's a good thing I have a good memory.
Sun Nov 02, 2008 11:55 pm
Here is the Parts breakdown for the two different Radio Operators gun installations. "Chuckie" didn't have a Radio gun either. By the time most surviving B-17's came off the assembly line the gun had been deemed ineffective and was removed. The basic structure was still installed. You can see the channels where the gun would have slid into position or stowage on all B-17's. It was simpler to keep the assembly line rolling rather than re-design these parts. Hope this helps.
Patrick Mahaffey
B-17 "Chuckie" Pilot/Mechanic
B-25 "Pacific Prowler" Pilot/Mechanic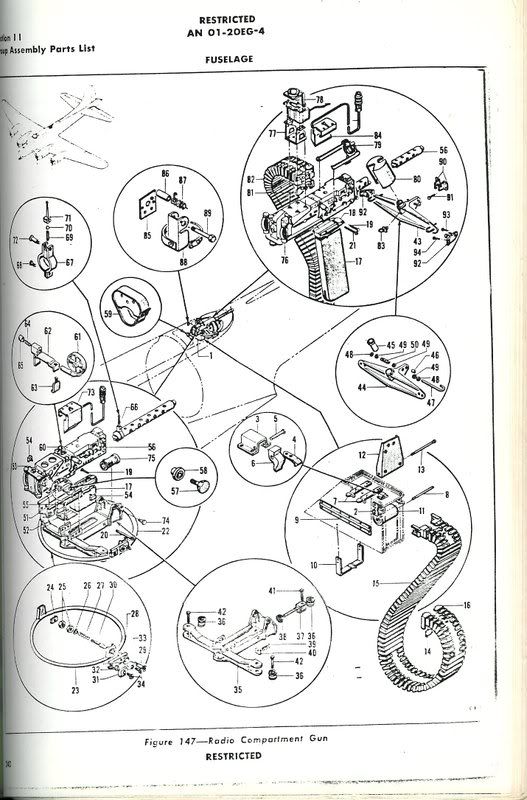 Mon Nov 03, 2008 1:51 am
Here's a pic of the radio room gun on B-17E 41-9023 "My Gal Sal." As you can see, the gun is in the stowed position.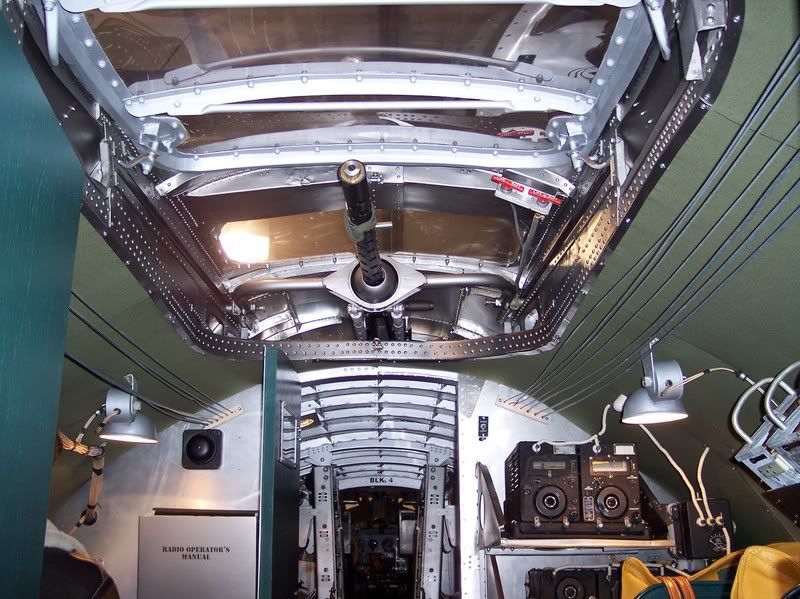 I don't believe Fuddy Duddy has a radio room gun..when I flew on her the regular upper hatch was bungeed to the side of the compartment along the floor. A hatch framework without the glass was fitted in place, with some strips of sheet metal running lengthwise across it.
Here's a snapshot of Aluminum Overcast..looks like the hatch is stowed where the gun would be (if she were so equipped.) Since most of the restored B-17s are late G models, the probably were never equipped with the radio room gun.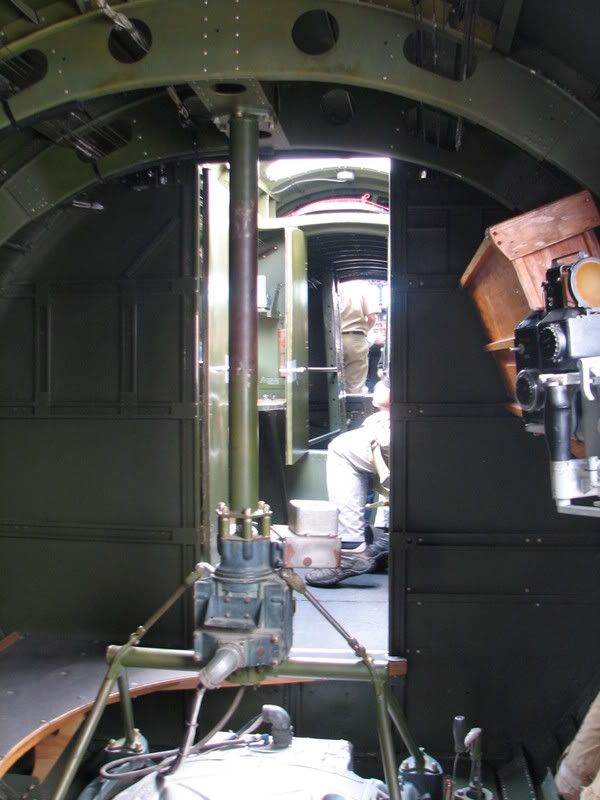 SN
Mon Nov 03, 2008 8:17 am
OK, that proves I know very little about this - and I'm glad I asked.

So, were the positions the same on the E thru G models until the gun was deleted? Looking at Fuddy Duddy vs My Gal Sal, Sal has a much more comprehensive setup; ball n socket, etc. Is either (or both) accurate?

Was there ever a setup for the gun to fire from a socket in a closed window like the late waist windows?

Maybe one of you can describe the chronology of this rig. Thanks for all the input!

Ken
Mon Nov 03, 2008 9:38 am
Steve,

The photo I linked in my above post is of "Fuddy Duddy." So, yes it does have the radio room gun.
Mon Nov 03, 2008 7:19 pm
Sorry..didn't check the link.

I believe the final versions of the radio room gun were indeed a closed mount similar to the late waist guns.

I've seen a couple of different versions of the "open" style gun. The "yoke" style mount like "My Gal Sal," and the "ring" style mount like "Fuddy Duddy." I don't know if this was an early/late thing, or varied by manufacturer (since Forts were built by Boeing, Vega, and Douglas.)

SN
Tue Nov 04, 2008 1:45 pm
Fuddy Duddy...
Wed Nov 05, 2008 8:51 am
Interesting, it was not there for my flight in Oshkosh 2006.
Thu Nov 06, 2008 2:18 am
http://homepage.ntlworld.com/mclaydon/
Follow this link to this site,
Go to aircraft walkthroughs
Go to B-17
Scroll down to radio room.