Today I was doing some research for an author who has written a book about the 479th FG, I ran across a couple curious photos that I wanted to share and hope somebody might be able to shed some light on.
The first is a cool looking WW P-51B. I've never seen the *double* Malcom Hood conversion before, so I thought this was unique.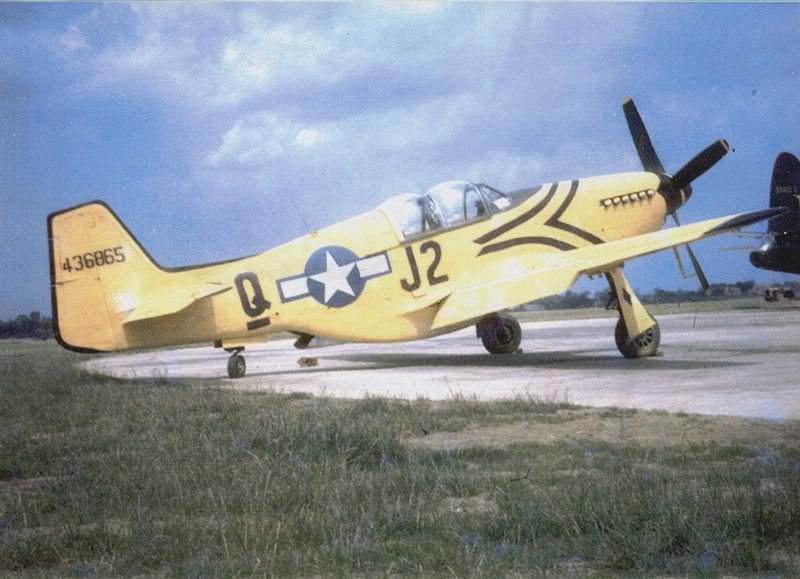 I was able to pull this from a Google of the serial #:
P-51B-5-NA 43-6865
486 FS
PZ-X Gerst Lt. Joseph L Smoky Joe Became PZ-M - Lt. Mundell
PZ-M Mundell Lt. Earl L Jr. From Gerst then to Stover
PZ-M Stover Lt. Merton J "Smoky" From Mundell
55 FS
KI-Q w/w OTU a/c
435 FS, 479FG WATTISHAM, UK
22 Sept 1945 (J2-Q) Accident
Our second WW is a Jug. This airplane is one I'm really curious about, since the 435th never officially flew P-47s as far as I know. The photo I have is a photocopy, hence the low quality here.
I can barely make out the serial, but this is what I got from Google:
P-47D 42-22476
82nd FS
3 August 1943 Crashed Belly Landing at Bury St Edmonds/Sta 468, UK. Pilot: Anderson, Bryant Y
MX-S "Fortune's Fool" Reassigned as MX-J
MX-J Crash landed 4 Jan 44 - Lt. Joseph A Scheibler
5th Emergency Rescue Squadron (Air Sea Rescue Squadron)
5F-V
435FS, 479th FG WATTISHAM, UK
12 July 1945 Accident. (J2-R) Pilot: PARK, DAVID C.
So, can anyone shed any light on, or provide further photos of, these hack airplanes?