tom d. friedman wrote:
i'm getting ballsy & brave. i want to post pics to the site. i've established the photobucket account, etc, but what is the img link?? somebody help a pathetically technological dyslexic individual of questionable judgement!!!! help me split the atom!!!

When you look at your pictures in Photobucket, below them should be a section with address's in them, one should be img, just copy and paste the address in your message.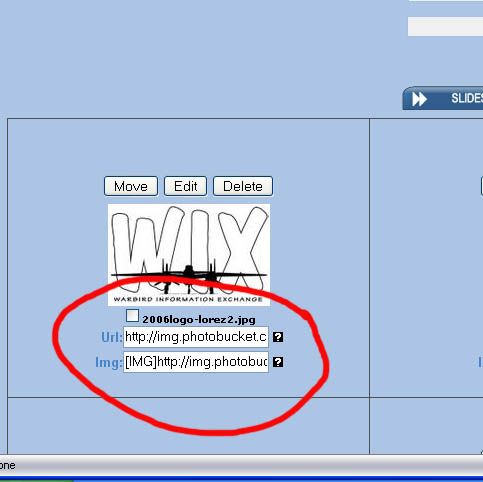 _________________
Scott Rose
Editor-In-Chief/Webmaster
Warbirds Resource Group
- Warbird Information Exchange - Warbird Registry - MilitarySciFi.com
Be civil, be polite, be nice.... or be elsewhere.
-------------------------------------------------------
This site is brought to you with the support of members like you. If you find this site to be of value to you,
consider supporting this forum and the Warbirds Resource Group with a VOLUNTARY subscription
For as little as $2/month you can help ($2 x 12 = $24/year, less than most magazine subscriptions)
So If you like it here, and want to see it grow, consider helping out.

Thanks to everyone who has so generously supported the site. We really do appreciate it.
Follow us on Twitter! @WIXHQ