I had a really nice phone conversation with Mr. Fred Austin. Very personable and knowledgable fellow. Here is the jist of what I got.
The Austins and Mr. Neumann (owner of the Condor project) have parted ways over differing ideas for the project. Part of the issue (apparently now solved) was a lack of drawings. I heard no animosity, just that they had different ideas.
Mr. Neumann and the Condor parts are in Moab, Utah. When Mr. Neumann salvaged the wreckage, it was cut into pieces that were manageable by people carrying them through the woods for some distance. The cutting wasn't hap hazard, but the remains are a lot of smaller parts.
Never say never, but the majority of the parts in posession of Mr. Neumann may only be good for patterns (my opinion - see pics.). Some knowledgable outside advice apparently pushed the approximate cost of restoration to $5 Million (mainly due to man hours). Like they say - It's doable, it just takes time and money! Mr. Neumann would be interested in talking with anyone interested in financing the restoration.
It would be really neat to have this "missing link" restored, but I don't know anybody with the money to invest in this...
These pictures are coutesy of Mr. Austin. I don't have his explicit permission to post them and hope that it is OK. There is a possibility that the B&W pictures were published a few years ago in Skyways Journal of Aviation #83 or #84. I post them here for educational value only.
C2j
Crash site of N12363
Wreckage of N12363 circa 1940.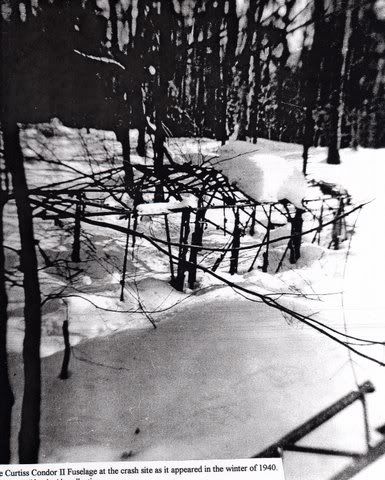 N12363 circa 2006.
Portion of main cabin structure.
Current condition of steele structure.